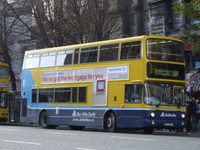 Dublin Bus says it is the first Irish transport operator to offer the National Transport Authority (NTA) supported information scheme providing passengers with real-time arrival information via website, smartphone (iPhone app) or text messages covering all 5,000 of its bus stops in Dublin.
The new system is the result of a joint initiative between the National Transport Authority and Dublin City Council – who provided technical assistance. All Dublin's bus stops have been given unique identification numbers which passengers can reference to check the arrival times for buses.
Information can be accessed at www.transportforIreland.ie or www.dublinbus.ie/rtpi
The Transport for Ireland website also provides real-time passenger information for Bus Éireann services and the Luas (tramway). Other operators' services will be added in the near future.
On a wider, nationwide scale, Bus Éireann will be included on the integrated service in the coming months. This represents a significant enhancement of the existing system where 500 electronic bus signs had been proposed (with 270 or more installed to date) to provide on street displays across the Greater Dublin Area.
These electronic displays are also being evaluated in Cork for a proposed launch later this year and will be rolled out to Galway, Limerick and Waterford throughout 2012.
Gerry Murphy, CEO of the NTA, said the authority was also working with Irish Rail to incorporate its data into the Transport for Ireland service to create a fully integrated transport information system for users. The next stage of development will then be the introduction of a national journey planner allowing people all over the country to accurately plan journeys using single or multiple modes.