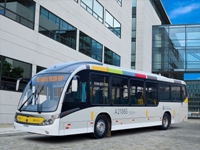 The citybuses will be operated by the Breda Rio Group
BRAZIL 200 Scania citybuses are to begin operating BRS (Bus Rapid Service) services in the South Zone of Rio de Janeiro.
"This delivery is a breakthrough for Scania's concept of citybuses that fulfills Rio de Janeiro's and other cities' requirements when developing efficient and passenger attractive public transport systems.
"I see a huge future potential. Upcoming major international sports events, like the Soccer World Cup 2014 and the Olympics in 2016 will further increase the demand of reliable and comfortable buses," said Wilson Pereira, head of sales of buses and coaches at Scania Brazil.
The Scania citybuses will be operated by the Breda Rio Group and have been designed in order to improve urban mobility in the municipality. The vehicles are introducing a new concept to public transport in Rio de Janeiro- focusing on maximum of comfort and accessibility.
The buses are Scania K 230 4×2 models with a length of 12.5 metres and a lowered floor, to facilitate passenger access. The vehicle has 35 seats, a space reserved for wheelchair users and can also accommodate up to 47 standing passengers.
The public transport system in Rio, BRS, is an intelligent solution for urban transport in medium to large cities, using exclusive bus lanes for unimpeded circulation of vehicles, thereby connecting passengers with other transport modes in a fast and efficient manner. The system permits greater organisation of bus stops and is easily adapted to the size of vehicles in operation.
Rio de Janeiro already has three rapid transport lines in the city's South Zone. These typically ensure a 40% reduction in travel times along the different routes. After implementation of the system, the average speed of trips in the region has almost doubled, from 13 km/h to 24 km/h. According to Rio de Janeiro City Hall, the city is planning to introduce more than 20 BRS corridors in the years ahead.