Update: ADL confirms models affected and provides further details of the fault
The Driver and Vehicle Standards Agency (DVSA) issued the following statement on 10 May through its website to operators:
"The Driver and Vehicle Standards Agency has recently identified a number of safety concerns with the suspension of Alexander Dennis Limited (ADL) Enviro200 and Enviro300 buses.
"Under DVSA's oversight, ADL is now working urgently towards solving those issues. The DVSA expects ADL to implement a number of technical measures and to recall the vehicles shortly.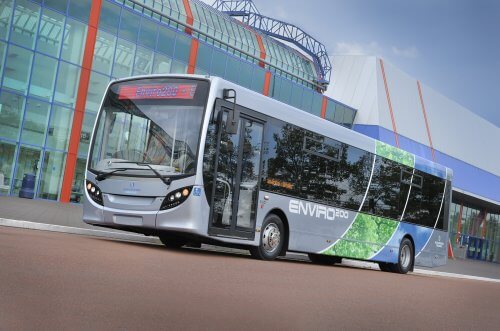 "DVSA's priority is to protect everyone from unsafe drivers and vehicles. So, DVSA has recommended that vehicle operators carry out a series of frequent safety inspections to make sure their buses are safe to use."
The statement continued to offer the following advice to operators: "DVSA has written to bus operators with details of inspections to carry out within the next two weeks.
"Operators will then need to continue with weekly inspections until vehicle modifications using parts provided by ADL are put in place.
"Operators need to report the findings of their inspections to DVSA."
CBW contacted ADL for a comment, but at the time of going to press we were still waiting for further information.
UPDATE: ADL has released the following statement, confirming which vehicles are affected:
We understand that all operators of Enviro200 and Enviro300 vehicles received a communication from the DVSA advising on safety inspections to be carried out. The communication was issued in the evening of Friday, 10 May 2019.

We want to reassure our customers and provide you with further information regarding this communication.

The models affected are:-

Enviro200: manufactured between 2004 – 2018. (Note – the Enviro200 "MMC model" introduced from 2015 is not affected).
Enviro300: manufactured in 2002 – 2015.

In the last few months, ADL has been working with the DVSA to understand the root cause of issues experienced by some customers affecting the front spring and rear anchor bolts on Enviro200 and Enviro300 vehicles. Whilst the issues are not widespread, safety is a core value of our organisation and ADL is committed to ensuring the continued safe operation of all vehicles. We are entirely supportive of the vital work which DVSA conducts to ensure safety from unsafe drivers and vehicles, and we carried out an extensive and exhaustive investigation into these issues.

Proposals to further enhance safety have been discussed with the DVSA – referred to as "vehicle modifications" in the communication. To explain further, ADL engineers have created a design improvement to both the front and rear suspensions:-

Front suspension –  a polyurethane ring is to be fitted to the existing catcher bracket, which will operate to further restrict axle movement in the event of failure of the front spring whilst the vehicle is in operation.
Rear suspension – a bolt migration catcher bracket has been designed to prevent the anchor bolt from migrating from the joint in the event of failure.

Both of these modifications are designed to enhance safety in the event of failure. It has been agreed with the DVSA that these parts will be issued to keepers of all affected vehicles free of charge in a service kit. The parts will be issued as a matter of urgency, to be fitted by operators. ADL will enclose detailed instructions regarding fitting the parts in the service kits. We thank you for your cooperation and understanding whilst this process is being implemented.

In the meantime, inspection and maintenance remains the best way to identify and prevent failure of parts. The communication from the DVSA advises operators of the nature and frequency of inspections it recommends be taken until the service kits are issued.

The communication from the DVSA advises that operators should refer to ADL guidance and technical bulletins if in any doubt on the nature of the inspections or methods of replacement. ADL takes this opportunity to remind you of the inspection and maintenance guidance previously issued by ADL:-

Front suspension –  Service Bulletin 595-3. Be alert for any signs that the protective coating has been breached and / or corrosion is visible. If any issues are identified, the advice in Service Bulletin 595-3 for re-protecting or replacing the spring must be followed to prevent failure of the spring. As an additional precaution, we recommend applying a further coating of primer and protective paint to the surface of the front and rear springs to minimise the potential for failure of the springs.
Rear suspension – Service Bulletin 915-2, 920-2 & 921. Continue to follow the prescribed inspection processes to maintain the correct torque and identify and wear on the bracket. If wear is identified, the bracket must be replaced as the required pre-tension cannot be achieved and replacement bolts will fail.

All ADL service manuals and bulletins (as well as specialist tools and training videos) are available to access via ADL's website (www.ad24.direct).

We would be pleased to offer the opportunity for ADL engineers to meet with your servicing team to discuss and demonstrate these maintenance requirements. Please contact your local Regional Service Manager to arrange a meeting.

Regards

Mark Wallis

UK Aftermarket Director