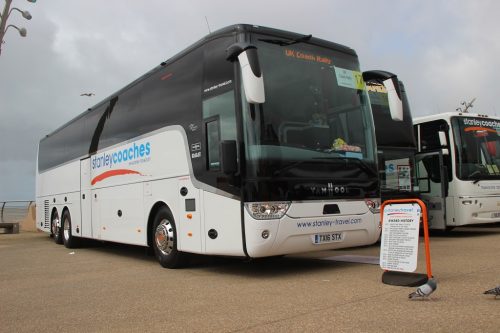 DVSA has announced a list of 30 organisations which will participate in its Earned Recognition pilot.
The scheme is a way for operators of lorries, coaches and buses to prove they meet driver and vehicle standards. They will regularly share performance information with DVSA, such as their MOT initial pass rates and if their drivers have broken drivers' hours rules.
In return, their vehicles are less likely to be stopped for roadside inspections, though DVSA will still stop vehicles if they're in an obviously dangerous condition. The intention is that DVSA will be able to focus on operators who are more likely to be non-compliant.
DVSA Chief Executive, Gareth Llewellyn, said: "DVSA's priority is to protect [the public] from unsafe drivers and vehicles.
"This pilot is allowing the best operators to go about their business unhindered, so we can target our activity at those most likely to be a danger to all road users.
"I would like to thank everyone who has helped us develop the pilot to the point where operators are starting to feel the benefits."
Among the organisations taking part in the trial are Allenby Coach Hire Ltd, Lucketts Travel (and Lucketts-owned Coliseum Coaches and Worthing Coaches), CT Plus, Barnes Coaches and Stanley Travel.
Lucketts Managing Director, Tony Lawman, said: "It has been a real privilege to play a part in this exciting trial, almost from its inception. It's been an honour to be asked to do this and I'm pleased that Lucketts is one of the first PCV or HGV operators to be officially accepted.
"It's testament to the exacting standards and processes we've had in place for many years and how our team have embraced this as a tool to help manage our business."
Stanley Travel said it was delighted to confirm its acceptance on the scheme, after an audit carried out by Lloyd Morgan Group. It said the scheme would allow it to prove its status as an 'exemplary operator' when bidding for contracts.
Keith McNally, Operations Director for the Confederation of Passenger Transport (CPT) said: "CPT supports DVSA in its efforts to encourage improved compliance and reduce the burden on compliant operators. Whilst we recognise that the Earned Recognition Scheme won't suit every compliant operator, it does have advantages that some operators will be keen to pursue and we are pleased to have been able to work with DVSA on the scheme's development."