Scarborough Locals brand will share East Yorkshire's livery but feature a new logo
East Yorkshire has unveiled plans to invest £450,000 in its summer open-top buses and services 12 and 13, which run between Scarborough and Bridlington. Additionally, it has announced Scarborough Locals, a new brand for buses in Scarborough.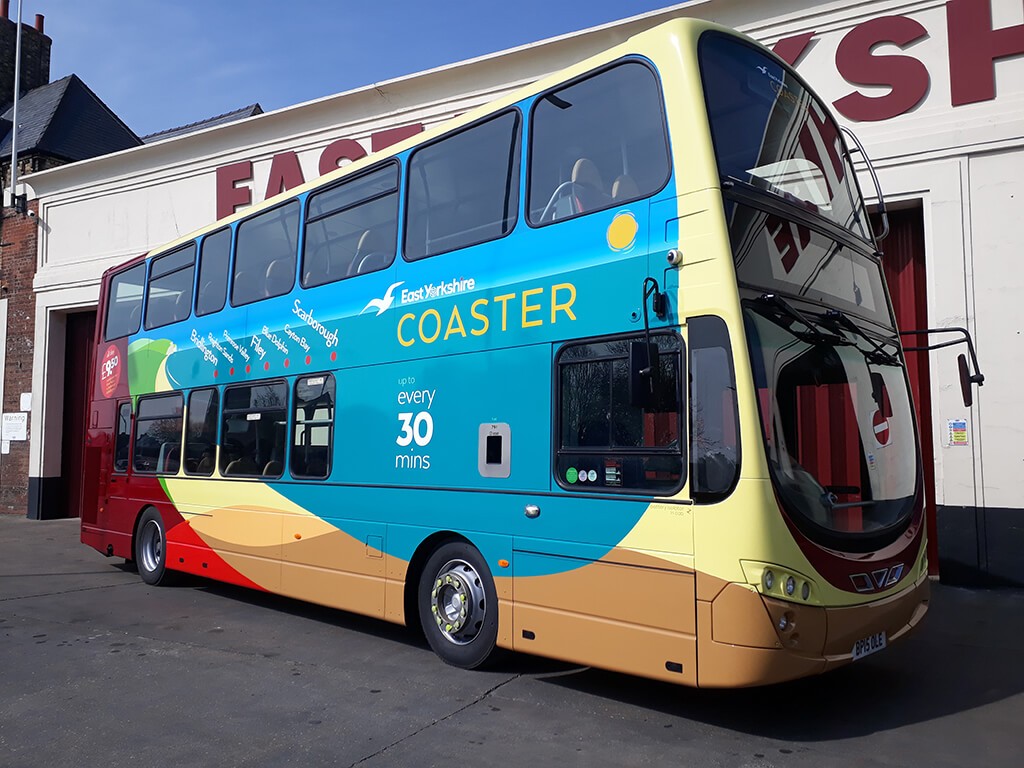 The news was delivered to local business leaders and company partners at an event at the Scarborough Spa, with Area Director Ben Gilligan also unveiling a new look for open-top buses in Scarborough and Bridlington – now called Beachcomber.
Eight open-top Volvo B7 Wright Geminis which are new to the company are due to arrive soon, and will have with extra capacity and improved seating over the outgoing vehicles.
Also shown at the event was the company's new Coaster brand for services 12 and 13, and further details of the refurbished buses were confirmed. Each of the eight Volvo B9 Wright Geminis selected for upgrade will feature free WiFi, USB power, improved seating, tables, mood lighting and next stop announcements.
Ben said: "The investments we are making in vehicles across the fleet, and in particular with full refurbishments of eight buses for Coaster, will improve the experience for passengers travelling on our services.
"Features such as next stop announcements will give assistance to those not familiar with the route and tourists visiting the coast or travelling from holiday villages, while the new interior, lighting and seating will give a more comfortable journey."
The Scarborough Locals buses will share East Yorkshire's new livery, though will feature a dedicated logo for the Scarborough area.
Continued Ben: "The Scarborough Locals brand is an evolution of the strong traditions of the company's long history, and we are proud to emphasise ourselves as a locally-run bus operator."
Passengers will start to see the Scarborough Locals brand across Scarborough over the coming weeks, with the upgraded Coaster and Beachcomber coming into service shortly.
You can read more Bus News here: cbwmagazine.com/category/news/buses