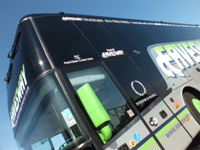 From April 2014 Eavesway will become the official UK coach supplier to Fred.Olsen Cruise Lines.The new partnership sees the existing Eavesway Cruiselink services from throughout the UK to Southampton, for P&O and Princess departures, expanded to include services to connect with all Fred.Olsen cruise departures. In addition, new services are being introduced to service all Fred.Olsen departures from both Dover and Tilbury from April 2014.
Eavesway recorded a 10.4% rise in turnover last year, with the increase running in excess of that figure this year. Bookings for 2014 are in line with expectations and the new services for Fred.Olsen, as well as new Southampton services to connect with Royal Caribbean, Celebrity and Cunard departures, look positive for further growth in 2014.
To meet demand the first three of Eavesway's next intake of Van Hools has already entered production. One will be to an 'Exclusive' spec for its corporate fleet and two are TX21 Altanos to Eavesway's Cruiselink spec, featuring Fred.Olsen Cruise Lines in the livery.
Eavesway is advertising its new partnership on Sky channel 284, the Holiday and Cruise channel.