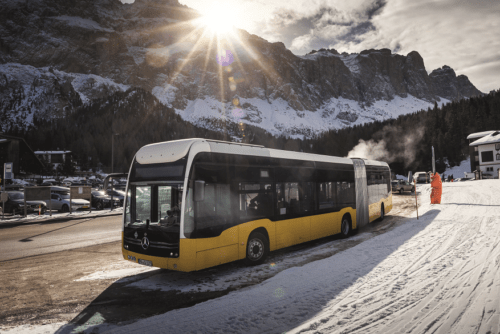 GERMANY
Before unveiling its new eCitaro with fuel cell range extender at the beginning of June, Mercedes-Benz put the bus through a series of tests, including a winter alpine crossing, a test run which it says presented many challenges.
The cold alpine air of the Plan de Gralba, at an altitude of 1,795 metres above sea level in the South Tyrolean Alps, was just one of the challenges the bus, one of four prototypes faced, including temperatures well below freezing during the testing earlier this year. Engineers were able to examine the functioning of the fuel cell system at extreme altitudes, whilst the drive system was given a work out on the mountainous roads, and performance of gradients of up to 15% tested, with a keen eye on energy consumption.
During the journey, engineers monitored numerous data points, which, besides the temperatures of the battery, fuel cell, engines and passenger compartment, also included energy consumption of the drive motors, the heating and other auxiliaries, the charge level of the batteries and the fill level of the hydrogen tanks.
The test run lasted several days, crossing the Alps from Neu-Ulm via Füssen, the Fern pass and the Reschen pass to Bolzano. "Despite the gradient, the fuel cell operated within the most efficient power range of 20 to 30kW," explained engineer Rainer Bickel. "What's more, the new thermal management reuses the waste heat from the fuel cell to control the interior temperature. The electric heating is therefore hardly used so that the overall energy consumption of all the auxiliary units, such as heating, steering and compressor, remains at a very low level."
The bus achieved as much as 285kW of energy recouperation on downhill stretches, charging the batteries almost twice as much as a fast charging station. "That's more than enough," Rainer reported. "So as not to put too much strain on the batteries, we have limited the recuperation output to 285kW."
"The eCitaro fuel cell met the challenges of this alpine run with flying colours. Thanks to the new energy management system, the fuel cell mainly operated in the most efficient range between 20 and 30kW, even on long and steep inclines," concluded Project Manager Shahrukh Javed.