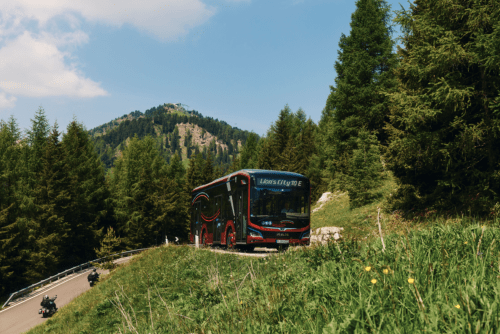 GERMANY
MAN has taken its Lion's City 10 E on a field test through alpine terrain in the South Tyrolean Dolomites. On the 531-kilometre trip, the e-bus climbed a total of more than 10,000 metres in altitude, consumed an average of 0.77kWh per kilometre and achieved a recuperation rate of over 50%.
"Our customers are enthusiastic about the reliability and comfort of our Lion's City E family. We want to put even more electric buses on the road and in turn promote sustainable mobility," explained Robert Katzer, Head of Sales & Product Bus at MAN Truck & Bus. "With the field test in South Tyrol, our electric bus shows once again that it is already possible to travel emission-free, reliably and efficiently. And it can do so in topographically challenging terrain just as well as on the classic, often flat public transport routes."
With a length of 10.5 metres, a wheelbase of 4.4 metres and a turning circle of 17.2 metres, the midi Lion's City 10 E has been designed for the narrow and winding roads such as those found in the South Tyrolean mountains. When fully charged, 400 kilowatt-hours of energy are available, offering a claimed range of up to 300 kilometres for the 33-seat bus.
"The excellent chassis set-up, direct steering behaviour as well as shortened distance between the axles bring great advantages on this route. The bus is very manoeuvrable, and the three tonnes of batteries is hardly noticeable in cornering situations," said driving expert Heinrich Degenhart from MAN ProfiDrive.
Following a drive up the Gardena Pass, rising to 2,121 metres, the nine-kilometre descent to Corvara gave the bus the chance to recuperate large amounts of energy, enough that its battery was almost fully charged again, MAN said, with peak charging values of over 200kW. After three days of testing and a total of 531 kilometres of driving with countless bends – with the lowest point at 523 metres in Klausen and the highest at 2,168 metres on the Passo Valparola, MAN found that there was almost no difference in energy consumption on the up- and down-hill journey compared to a round trip on level ground.