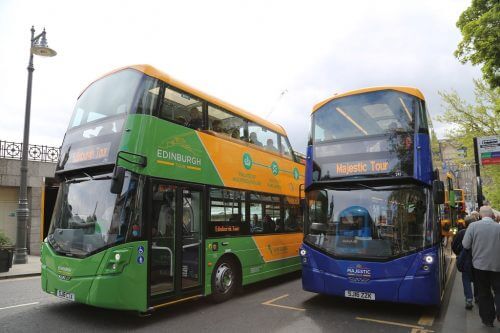 Lothian's Phil Lock spoke to CBW's Dominic Ward about the plans for a new ticketing system
When City Sightseeing came to Edinburgh in 2000, replacing the existing Classic Tour, Lothian was able to obtain the franchise. Two years later, all tours operating in Edinburgh came into Lothian's ownership, and from there Edinburgh Bus Tours was born.
Since then, the company has gone from strength to strength, introducing a variety of tour packages. The Majestic Tour, named after a staff competition to link the Royal Yacht Britannia to the city centre, launched in 2004, with the Forth Bridges Bus & Boat Tour introduced three years later.
Last year, the company carried over 600,000 customers, and has grown to offer four different tour experiences around Edinburgh. Each bus is either guided or has multilingual audio, giving each customer a wide range of choice.
Edinburgh Bus Tours has become one of the top paid for attractions in Scotland trading on a national and international basis.
Now, after 17 years, the company is going through a modernisation programme, the next phase of which is focusing on its ticketing system. I spoke to Phil Lock, Project Manager in the Commercial Department, to find out more.
Current system
The current system has been in operation since 2000, and has been built upon since its introduction. "It's very modular and not integrated," Phil explained.
"It's mainly a handheld off-the-shelf POS machine. It's got some point-of-sale software loaded onto it with our various tour products, attraction tickets and so on. There's also a linked Bluetooth card reader for chip-and-pin transactions."
The current system has a great deal of complexity behind it – more than the average customer would realise. It feeds into the internal network, being passed to the off-bus revenue team before being sent on to various internal departments such as the payroll team for wages and commissions.
The lack of integration within the system however is one of the biggest drivers behind the changes, and Phil stated: "it doesn't really fit with Edinburgh Bus Tours' aspirations nor the expectations of our frontline and behind-the-scenes staff, given the recent £6.5m investment in our fleet and the sharpening of our image and products standards. We know we can do better."
"We want to bring on-board as many customers as we can, and encourage growth and higher patronage by making it far easier to get on our buses."
New system
Phil said that the system they're looking to introduce will be "entirely refreshed." With that in mind, the reworked system will look at everything from ticket machines, to back-up systems, to web-based systems for ticket agents. Phil also said that individual users – people who come to Edinburgh for the day – will also be able to see the benefit from the new system.
"A modern ticketing system plays a major part in how our customers engage with our product, and so we have shifted our focus firmly to the revitalisation of this important aspect," he said.
"Edinburgh Bus Tours must now identify and establish an integrated and smart solution to allow the business to move forward in the immediate term, but also to provide a solid platform and supplier relationship to permit a flexible and practical approach for future goals."
Phil and his colleagues will be issuing a request for information on August 31,and from there they will be shortlisting potential suppliers who will then present to the evaluation panel. Phil expects this to take them up to November 17, adding that he's "not entirely sure that the system we're looking for exists and it may be the case that we have to bring a few suppliers together to get what we require."
The target implementation date for the new system is around March next year.
Aspirations
It's evident from speaking to Phil that he's passionate about his work. With this project he's striving to help Edinburgh Bus Tours on its journey towards becoming "the best city tour bus operator in the world." Additionally, he's passionate about the people that make Edinburgh Bus Tours a success: "We have a fantastically enthusiastic and committed team working in nice, newly branded uniforms" adding that the uniform is "a lot easier on the eye than when I was working there!" The new uniforms were introduced in June this year, supplied by Pride and Joy Clothing.
Phil is also very keen to make sure they are not only making things easier for their customers in terms of payment, but also to make the tours revolutionary. "Things like virtual reality, and on-board interactive applications via mobile phones or seat mounted devices are absolutely achievable. Things like this didn't seem possible or easy to achieve a few years ago but these are the sorts of things we can start to look at, and we will look to work with attractions in Edinburgh to provide an experience that's completely connected but also extraordinary."
Phil mentioned that "to be the best you have to specialise and do what others aren't." To that end, he spoke quite candidly about the other projects he's working on, besides the new ticketing system.
Other projects
"We're taking everything piece by piece and modernising a lot of existing technology-related projects," Phil continued.
"WiFi boxes on the buses, which were put onto every vehicle a couple of years ago, are starting to bring integration with other elements on the vehicle. For example we've linked destination displays (supplied by Hanover Displays) and destination controllers to upload the latest destination lists, instead of somebody having to go round with a USB stick and visit every single bus."
Phil and his colleagues have taken time to step back and reassess what they could do to streamline existing processes, and so far things seem to be working. He's also helping to make the buses more accessible and connected, by providing links from the next-stop announcements to internet resources such as Twitter.
Making things easier is something that Phil enjoys most about his role: "Finding a way to make things as frictionless as possible – that's the biggest challenge. When somebody's handing you something new, regardless of the topic, it's important that by the end of delivery you've made it easy to use and intuitive for everybody."
Interested parties can get in touch via email to [email protected] using the subject line "Ticketing Solution RFI." Information and documentation will be sent upon receipt. Replies must be received by 1300hrs on October 5 to ensure eligibility for consideration.