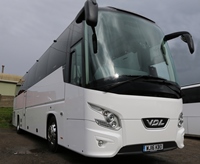 Wales' largest independent operator invests £5m in 19 new coaches and buses in fleet expansion as business booms
Edwards Coaches has recruited 30 new members of staff and invested £5m in 19 new coaches and buses in its latest round of expansion across three parts of its business – National Express (NX), local bus services and coach holidays and private hire.
"We are seeing a large spike in business this year due to the Welsh football team hitting the Euros, and also customers choosing to take their holidays by coach in the UK. All of this is leading to booming business," enthused Jason Edwards, Commercial Director.
Due to that increase in work, Edwards has recruited 30 new members of staff across all disciplines and depots, ranging from engineering to travel shop staff. Based at Llantwit Fardre, near Pontypridd, Wales' largest independent operator, which now runs a 260-strong fleet and employs 500 people.
The lion's share of the new vehicles – 13 – are for the family-run firm's NX coach contracts, which currently has a peak vehicle requirement of 35. The new 57-seater Caetano Levante-bodied Volvo B11R tri-axles are replacing an identical number of 48-seater 11-plate two-axle Volvo B9s.
"Services from South Wales have seen unprecedented levels of growth," explained Jason.
"Passengers are coming back to scheduled coaches. With more seats available on all NX routes to meet the growing customer demand, it is expected to continue to grow at an impressive rate. It's a very pleasant way to travel. The NX stamp is all too apparent on-board the coaches – it's akin to a business-class aircraft. Their specification includes Lytx Dashcams, Volvo drive assist safety system, full telematics driver monitoring system and eight on-board CCTV cameras."
Jason said the firm intends to retain rather than dispose of the B9s: "We've already painted one into Edwards blue, and we plan to use that vehicle for UK day-trips and private hire. We'll take a view on the rest in due course."
Three new MCV-bodied Volvo B8RLE service buses have been acquired from Volvo to replace a trio of MCV Evolution-bodied VDLs. The buses will be allocated to Edwards' commercially-operated route 400, which links Beddau with Cardiff.
Jason explained the reasons behind selecting Volvo for both its NX coaches and services buses: "It's down to reliability – we've enjoyed fantastic results on the Volvo running gear. We have full confidence in the Volvo package and support network. Our local dealership, Wales & West Truck & Bus in Pontypridd, is exceptional – the team there treats our vehicles as if they are their own. It's certainly the highest level of customer service we have ever experienced, and what's more, it's conveniently located just two miles down the road. We need a coach to be in-and-out and back on the road within 12 hours. Wales & West staff have fully embraced and understood the coaching side of the business, which demands maximum up-time."
James Hyde, Retail Sales Director for Volvo Bus told CBW: "Once again we are proud to be associated with the Edwards brand and the investments that they make with us are truly appreciated. When it comes to supporting them, it is a team effort with sales, aftermarket and our dealer partner Wales & West all playing equal roles. It is a pleasure to deal with all at the company. We understand their needs and they are always constructive, honest and straightforward when it comes to our joint relationship."
Three new touring coaches have also been acquired. Supplied by Moseley in the South, the two-axle 57-seater VDL Futura FHD2 129.370MX Auto 12.9mtr coaches are additions as opposed to replacement to the fleet.
Asked why the Futura had been selected, Jason replied: "Again, it's down to the package. We enjoy great support from Alan Vaulter and Peter Jenkins and the team at Moseley South. The Futura is a proper reliable work-horse."
Alan Vaulter, MD at Moseley South told CBW: "We are obviously delighted Edwards Coaches has bought VDL product after a gap of a few years."