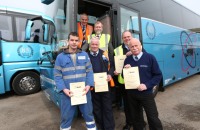 Welsh Deputy Minister for Skills and Technology Jeff Cuthbert has visited the head office of South Wales-based Edwards Coaches to learn more about the accredited workforce development programme, currently being delivered to more than 400 staff across the operator.
The Minister received a tour of the firm's site in Llantwit Fardre and heard from staff who are benefitting from the programme, which has been specifically designed for the firm. He also learned about the training academy which will soon be established.
The programme is being delivered with over £280,000 funding from the Welsh government's Skills Growth Wales initiative, which is in turn funded by the European Social fund. The fund gives support to Welsh companies looking to up skill their workforce during periods of expansion.
Edwards Coaches has increased from 300 to 400 staff over the past 12 months and as a result of several new contracts plans to increase turnover by 15% over the year.
Each member of the workforce will complete a personalised version of the training programme and will gain a nationally recognised qualification. The training covers a range of jobrelated topics from personal effectiveness to customer service.
Cardiff-based learning and development firm Stratum worked closely with staff at Edwards Coaches to design a bespoke learning programme enabling staff to develop specific skills.
Director of Edwards Coaches Kelly Edwards said: "We strive to have a highly-skilled and motivated workforce. We are investing a lot of time into this programme and are committed to developing the highest quality employees. We are confident this will give us a competitive edge and help our workforce to excel at what they do."
Clayton Watts, Commercial Director of Stratum, said: "We have a lot of experience working to develop skills and we have some examples of increased efficiency and bottom line savings as a result of company-wide training. Edwards Coaches is a successful company and a great example of an operator which is focused on the benefits of staff development."
The Deputy Minister for Skills and Technology, Jeff Cuthbert, said: "It has been fascinating to see the innovative work which is taking place at Edwards Coaches. The team has used the programme to establish an effective learning culture across its sites. I am delighted to hear about plans to set up an in-house training academy as this will help the momentum of this programme to continue.
"A highly-skilled workforce in Wales will have a positive impact on employment and the economy. We are committed to supporting companies like Edwards Coaches to sustain jobs and create further employment while up-skilling their workforce. They are setting an excellent example and I wish them the best of luck with future plans."