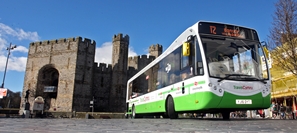 Complete revamp of six government-funded long-distance routes in Wales now complete, with T2 utilising Optare Metrocitys
Transport Minister Edwina Hart has launched an improved bus service between Bangor and Aberystwyth, which completes a revamp of the national TrawsCymru services which has seen 46 new buses introduced on the six long-distance routes since 2011.
As well as four new Optare Metrocity buses with free WiFi and a bilingual next stop announcement system, a new seven-day-a-week timetable for the T2 service has been introduced.
Similar improvements have been made to all six routes of the Welsh Government funded TrawsCymru long distance bus network, which carried a record 1.5 million passengers in 2014/15.
Edwina Hart said: "Today's launch of the new T2 service between Bangor and Aberystwyth completes a comprehensive upgrade of the TrawsCymru service, providing modern vehicles with improved accessibility, comfort and access to the internet.
"The Welsh Government recognises the importance of bus services in Wales, particularly in rural areas, for providing access to jobs and services. We have now implemented all of the recommendations made by Dr Victoria Winckler in her review of the TrawsCymru network.
"We are also investing in providing over 720,000 passes for free bus travel for the over-60s, disabled and members of the armed forces and recently introduced MyTravelPass, offering discounted fares for 16-18 year olds.
"This demonstrates the Welsh Government's commitment to ensuring our bus networks meet the changing needs of our communities and increasing the number of passengers using those services."
Since 2011, 46 new low-floor buses have been introduced on all six routes of the TrawsCymru network, with improved frequencies and better connections at key hubs.
Robert Drewery from Optare added: "Optare designs its buses with the environment in mind and we are proud to be supplying these new fuel efficient Metrocity buses for the T2 service."