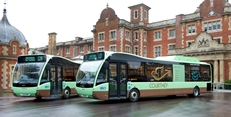 Courtney's of Finchampstead, Berkshire has added two 11.7m Optare Versa Hybrids to their fleet. The Versa Hybrids were purchased with support from the Government's Green Bus Fund.
Courtney's have purchased Optare vehicles for many years and have a majority Optare fleet including Solos and Tempos. These Versas with Hybrid power train will be the first Versas in the Courtney's fleet and will operate on its Wokingham routes.
The Versas have 41 Esteban V3 high back seats with 'Courtney' embossed in the head rests and three tip up seats. The Versas also boast Hanover destinations with full colour display to front, a Synectics six-camera T1600 CCTV system and a Hanover passenger announcement and next stop system.
Bill Courtney-Smith, Courtney's Owner said: "We made history in 2002 when we were the first bus company in Britain to run our fleet on biofuel. Since then we have remained true to our green policy seeking out the latest in bus technology for our fleet. As a family business we pride ourselves in listening to our customers and they always comment most favourably on the ride quality of Optare products, so the Optare Versa hybrid was a natural choice for us."