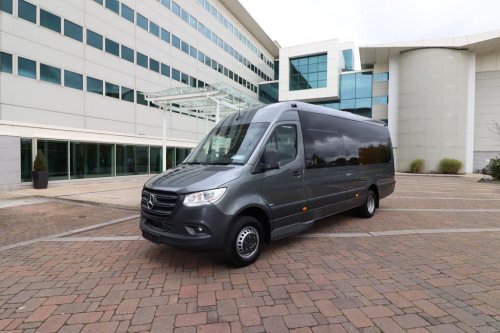 Evans Coaches has taken delivery of a new EVM Elegance. The family business is located in the heart of the beautiful Pembrokeshire National Park, in Milford Haven. The company was established in 1986 by Edward Evans.
The team of professional drivers are well trained, DBS checked and CPC qualified. Evan Coaches today operates 12 vehicles with 14 drivers and is offering local and national services including school contracts.
The Mercedes-Benz Sprinter-based EVM Elegance is fitted with 22 EVM comfort class 80 seats finished in virtual leather. Passenger entry is through the original Mercedes-Benz hinged cab entry door with moulded three-stage entry step with LED strip lights. EVM Stepped Curved glazed saloon windows in privacy grey are specified and the hard-wearing Tarabus flooring completes the interior.
The boot has original Mercedes-Benz 270-degree hinge doors. The rear row of seats is on a raised pedestal. The boot is a full depth drop boot with fold-out flap and stainless-steel boot protector.
The Mercedes-Benz Sprinter is a Euro VI 516CDi with an extra-long wheelbase, the transmission is a seven-speed G Tronic automatic gearbox, and the exterior is finished in Mercedes-Benz Selenit Grey.