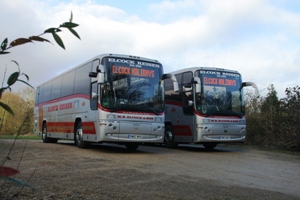 A Transport Manager who knowingly allowed breaches of driver rest periods has been disqualified until the end of April 2013.
West Midlands Traffic Commissioner Nick Jones told Nicholas James Prince that his good repute and professional competence had been lost, following a Public Inquiry (PI) on February 14, 2013. Mr Prince is also a director of the firm.
The direction automatically led to a disqualification order for Mr Prince. In addition, Mr Jones stipulated that the order could not be removed until Mr Prince had attended the second day of a specialist Transport Manager course scheduled in April 2013.
The PI, which was held in Birmingham, was called to deal with an investigation by VOSA into Telford-based operator M H Elcock and Son Ltd. A Traffic Examiner from the enforcement body made enquiries into the company's compliance with Drivers' Hours and tachograph regulations in March 2012.
On his initial visit, the VOSA officer noted that Nick Prince was regularly inspecting tachograph charts and driver data. Records produced by the operator were subsequently analysed and revealed drivers were regularly working in excess of six days before taking weekly rests, with some repeatedly taking reduced weekly rests when a 45-hour rest period was due.
In his report to the TC, the Examiner identified a driver who had worked six weeks without taking a regular weekly rest and on one occasion worked eight 24-hour periods before he took a weekly rest at all. The analysis also found daily rest issues with one driver, advised they were allocated work by Nick Prince or another employee at the firm.
After hearing evidence from Mr Prince, of Church Hill, Ironbridge, the TC concluded he had knowingly allowed drivers employed by the company to breach rest periods. This led Mr Jones to make a finding that his repute and professional competence had been lost.
Turning to the company, which was also called to a regulatory hearing, Mr Jones made an order to limit the number of vehicles the company could operate from 35 to 30 between February 16 and 24, 2013. The firm has three months to find a new Transport Manager.