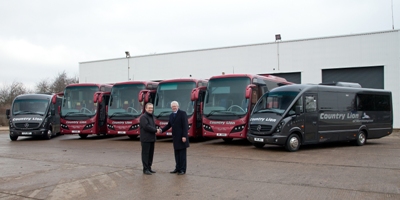 Four Panthers and two Cheetah's add to the operator's Plaxtonheavy fleet, which already includes examples of the Paragon, Profile and Elite
Northampton-based Country Lion has added four Plaxton Panther- bodied Volvos and two Plaxton Cheetah-bodied Mercedes-Benz Varios to its fleet ready for the 2013 summer season, supplied by Plaxton Coach Sales at Anston.
The new coaches will be used on a wide variety of work from Northamptonshire and surrounding areas including the company's own 'Cloud Nine Tours' programme. Plaxton products have always featured strongly with Country Lion and well over 50% of the current fleet carries Plaxton coachwork. The fleet includes examples of the Paragon, Panther, Profile, Elite and Cheetah.
Country Lion's four new Panthers are 12.8m two-axle vehicles featuring 53 or 57 GTV reclining seats with all age three-point seatbelts, trimmed in moquette with leather headrest inserts and piping. A matching courier seat is installed in Plaxton's easy access entrance with the driver benefiting from a Grammar fully adjustable seat. The vehicles feature climate control with a roof mounted Thermo-King air conditioning unit and tinted windows. Alongside the centre continental door in the two 53-seat vehicles is a kerb level washroom with fridge and servery area above.
Underneath the stainless steel framed Plaxton Panther coachwork is the Euro 5 Volvo B9R chassis incorporating a rear mounted Volvo D9B 9.36 litre engine delivering 380bhp and Volvo I-Shift automated gearbox. Externally, the new Panthers feature Country Lion's pearlescent red 'Royal Class' livery and are embellished with Alcoa Dura-Brite alloy wheels.
The two Cheetahs hold 29 Politecnica reclining seats with three-point seat belts together with a matching courier seat. The seats are trimmed in a grey and black patterned moquette complimenting the blue interior trim with contrasting curtains. Entertainment is provided by a dash mounted radio/CD/PA system.
The Plaxton Cheetahs feature the 156bhp OM904LA SCR Euro 5 engine and automatic transmission. The Cheetahs carry Country Lion's metallic grey 'Royal Class' livery. Like the Panthers, the Cheetahs carry select registration marks representing the company Country Lion or members of the Bull family.
Director Andrew Bull said: "Plaxton produces quality products which suit our needs. They are economical to operate and attractive to our wide range of customers.
"Our relationship with Steve and the Plaxton team makes us feel a valued customer."
Country Lion commenced operation with minibuses in the 1960s, later moving to full size vehicles. A family business, the company now operates over 50 buses and coaches together with a fleet of self-drive hire vehicles from its base on Northampton's Brackmills Industrial Estate, covering all types of work from stage carriage and school contracts to extended tours.
Andrew added: "Relationships are an important part of it when you're considering spending hundreds of thousands of pounds on the future of your business. We've known Steve for many years and he's been good to deal with and very attentive to the needs of our business.
"The relationship we have with Plaxton has always been good and we know we will get the service and back up we need when we need it, it's just a phone call away."