By the end of this year, Metroline expects to have almost 100 fully-electric buses
Metroline's Optare Metrodecker EVs have entered service for the first time on route 134.
The first vehicle left the company's Potters Bar garage at 0659hrs on the morning of Monday 19 August to clock up its first miles in regular service.From there, the bus made its way to North Finchley to pick up its first passengers.
Chosen to drive the Metrodecker on its inaugural journey was driver Kevin O'Sullivan, who commented: "I think it will make a real difference in making the air cleaner. Electric buses will become popular everywhere in London, and the more there are, it might help more buses outside of the city become electric too."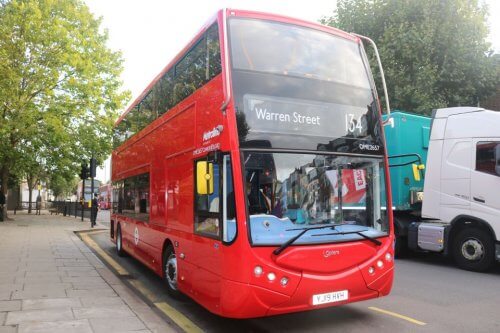 The buses have a range of 'over 150 miles' on a full charge; purpose-built power supplies have been installed at Potters Bar garage to top them up.
Like the route 43 buses at the Holloway depot, the Metrodeckers will be charged during the night and periods of low local demand in order to mitigate the garage's energy demand.
Commenting on the launch, Sean O'Shea, CEO of Metroline said: "Metroline have made a significant investment and commitment to electric buses and with the launch of electric buses on our 134 service today, we continue to lead the way by delivering London's first completely zero-emissions, all-electric routes.
"Combined with our electric buses operating on route 43, today's launch marks a significant step forward for Metroline, and London, as we continue to deliver greener and environmentally cleaner solutions for our customers on the London Bus network."
Optare CEO Graham Belgum added: "Optare is thrilled to partner with Metroline in delivering one of TfL's first zero emission double deck routes.
"The launch of the Metrodecker EV into service on route 134 represents the culmination of four years' work for the company and a major milestone in our zero-emission journey.
"We look forward to a successful partnership with Metroline and a growing presence in the capital."
By the end of this year, Metroline will have almost 100 fully-electric buses. Together with route 43 – which it also operates – the two routes will be the capital's first 'end-to-end, fully electric double-decker bus routes.'