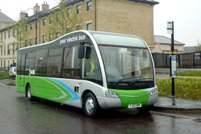 Two electric Optare Solo SRs are being trialled on a route between Dorchester and the 'model village' of Poundbury. Funded by the Duchy of Cornwall, West Dorset District Council and Dorset County Council, the buses are expected to embark on passenger carrying service duties in the coming weeks.
This is the first time the SR model has been powered by electricity and features the Enova P120, zero emission, full electric drive system which Optare says has been selected for its "optimised application in smaller vehicles". The motor power is 120kW with a torque rating of 650Nm and there are 56 maintenance-free, lithium iron magnesium phosphate batteries housed in two separate packs which are assembled in parallel. The 100kWh battery pack is expected to give an operating range of around 90 miles on a single charge.
Charging is via a water-cooled 15.2 kW on-board charger which reaches full capacity in around six hours. The charging process is fully automated and the unit shuts all systems down at the end of the cycle enabling the vehicle to be left unattended.
The 8.9m Solo SR's are fitted with 28 leather trimmed, Esteban Civic V3 seats, incorporating integral headrests. Mobitec LED destination and route number equipment is fitted together with an ACIS passenger information system.
Further information will be given about the vehicles and the service at the official public launch planned for early July.