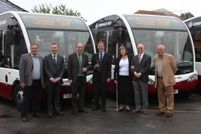 The new vehicles were launched at a ceremony attended by Transport Minister Norman Baker
Worthing-based Compass Travel has invested over £1.7m in 15 new buses following the expansion of its network.
The company was recently awarded a contract in East Sussex to operate a number of routes, for which six new Optare Solo SRs have entered service. Compass has seven older Solos in the fleet, but this is the first time it has purchased the non-belted version.
A further seven new ADL Enviro200s enter service later this month in Brighton, when Compass takes over five contracted routes in the city. Five of these are the 8.8m versions, ideal for some of the congested estates where they will operate, and two are the longer 10.8m version as the service has been timed to connect with the shortened service 52 operated by the Big Lemon.
Compass has also invested in two door-forward Wrightbus StreetLites to operate another new service between Cranleigh and Guildford. This is Compass' first dealing with Wrightbus and follows a successful trial of the wheel-forward version when first launched.
Compass Managing Director Chris Chatfield said: "We needed a high capacity vehicle which was compact enough to operate easily on this route and this vehicle fitted the bill. We were also impressed by the build quality and felt this was ideally suited to the roads this route operates on. This is primarily a commercially operated route and we believe the StreetLites will encourage more passengers to travel on this route.
"Compass Travel has bucked the trend by investing while others are cutting back."
A ceremony to launch these buses was held at the company's depot in Durrington on Sunday, September 2.
Speaking before cutting the ribbon, Transport Minister Norman Baker said: "To spend £1.7m is a real vote of confidence by Compass in the bus network. Some of these buses benefit my constituency and the public is already very grateful for them. This is very useful for driving up passenger numbers.
"These buses are British made, which is very good for British manufacturing and the bus industry."
Representatives from the councils involved were present, as well as the bus manufacturers. Mark Prior, Lead Commissioner, City Regulation & Infrastructure, added: "I am pleased Compass has extended one of our routes commercially, meaning some areas of Brighton will have a Sunday service for the first time."