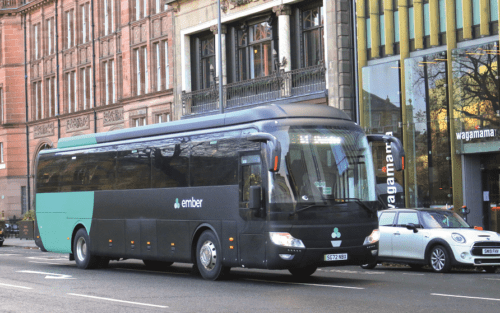 Highland Council has granted planning permission for a new charging hub in Inverness for electric inter-city operator Ember, located on a site within port authority land in the city.
The Edinburgh-based operator is continuing with its plans to expand its network, which began initially on the Edinburgh-Dundee corridor, before adding services between Dundee and Glasgow. Plans are already in place to expand the network to encompass Aberdeen and Fort William.
The proposed site is located close to the city centre in the city's Harbour Road, allowing easy access for buses between journeys, though it sits behind a flood wall, meaning the gates could be closed in the event of a tidal surge. However, Ember said that all charging hardware will be sufficiently raised not to be at risk of flood damage, and added that most of the charging hardware will be located on a 5.2m high overhead gantry to minimise the risk from trailing cables.
There will be space for up to eight buses to charge simultaneously, with an average of two to four buses likely to be charging at any one time during the day and all bays only occupied overnight, the operator explained, giving an idea of the scope of proposed operations. In addition, there will be staff parking, accommodation for drivers' breaks and a vehicle wash bay at the facility.