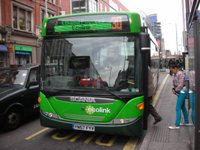 NCT axes its remaining ethanolfuelled Scanias, introduced under Ecolink project in 2008 with £520,000 of funding
Buses currently running on ethanol fuel are to cease operation in the UK.
The sole remaining operator with ethanol-fuelled Scanias, Nottingham City Transport (NCT), has already converted one of its three ethanol buses to diesel, with the remaining two being converted by the summer.
NCT's ethanol buses came into operation via the Ecolink project in 2008 and were supported by around £520,000 in funding from the now defunct East Midlands Development Agency as part of a trial with Nottingham City Council. This funded the buses and an ethanol tank and fuelling station at NCT's Parliament Street garage.
NCT said while the ethanol-fuelled OmniLinks have been successful from a reduced environmental impact point of view, the Government has continued to tax ethanol as a spirit rather than fuel. Consequently longterm running costs have become unfeasible for bus operators.
Reading Buses had its 14 ethanol-fuelled Scania double deckers converted back to diesel some time ago. There is no British production plant and NCT still has to import ethanol from Sweden. Trying to import what is essentially raw alcohol causes pandemonium with HM Revenue & Customs who find it hard to believe it is purely to fuel buses.
Reading Buses and NCT were the only UK operators to purchase ethanol-fuelled Scanias. Scania remains committed to ethanol as a viable, low-emission alternative fuel to diesel and claims it is engaged in talks with another UK operator.
NCT is currently operating the demonstration ADL/Scania gas bus and evaluating its performance and commercial viability. Depending on the content of Green Bus Fund 4 and the potential reduction in the individual grant awarded to each vehicle it could see a slowdown in the progress of expensive hybrids and favour gas buses. It is expected the higher grant proportion is to be allocated to encourage interest in electric vehicle options.