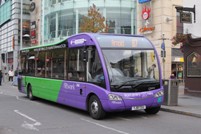 New survey shows improvements across the board from 2009, as high as 14% in some places
Results from the Nottingham City Transport (NCT) 2011 customer satisfaction survey show a number of improvements for the municipal operator.
Over 6,000 people completed the survey, which shows overall customer satisfaction has increased from 71% to 80% in the space of two years.
The positive results mirror the recent survey conducted by Passenger Transport, which reported NCT achieved the second highest score in the UK for customer satisfaction.
"We carry out passenger satisfaction research every year, and have done since 2004," says NCT Marketing Manager, Anthony Carver-Smith. "It's an essential tool we use to measure how we can continually develop services for our customers. These great results and the growth in passenger figures, reflect a two-year programme of improvement activity, which has included significant investment in technology and training."
NCT believes its investments, which include extensive customer service training for all drivers and the new £3m GPS tracking system, have contributed to its 2% increase in passenger numbers over the last 12 months.
Carver-Smith added: "We've gone to great lengths to try and ensure our customers enjoy every aspect of their travel experience with us – from improving the accuracy and frequency of our services (core routes now run from every seven minutes) to making sure our buses are clean and have more room for wheelchair users and buggies.
"We're very pleased to see that our passengers are recognising the huge efforts made every day by our drivers and staff behind the scenes."
A table with the survey results can be found in this week's CBW.
Additional survey results :
74% of customers are travelling on three or more days per week, every week
Work, shopping and travelling to education are the top reasons for using the bus
24% of surveyed customers in 2011 said they were new to using NCT's bus services
20% previously used the car for their journey
26% of all customers surveyed in 2011 said they could have used a car for their journey, but chose to use the bus. On the highest route this was 40% of customers
Main reasons given were that using the bus was easier than driving (27%); parking and car costs were too high (47%)
76% of all customers did not use a timetable for their journey – reflective of NCT's realtime technology, mobile phone app and website as well as high frequency 'turn up and go' routes
95% of customers believe the service offered is the same or better than the year before.