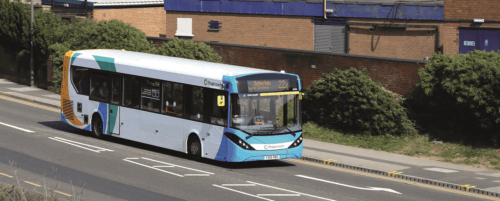 A transport charity has welcomed the £2 fares initiative, but warns that more needs to be done before the end of March when the final round of Covid-19 funding ceases According to a recent report by The Guardian, the new three-month fares subsidy across England has been widely welcomed, but passengers may need longer-term incentives to use some routes campaigners say, warning of more route cuts when the funding finishes at the end of March.
The end of the fares deal will coincide with the conclusion of the final tranche of post-pandemic bus recovery funding, and campaigners argue that up to 20% of routes could be at risk in some areas, with long-term subsidy needed to keep fares down in the face of rising costs. The Campaign for Better Transport (CBT) cautiously welcomed the scheme, and called for it to be more than just a temporary fix. CBT campaigner Alice Ridley said: "Obviously we'd prefer something to be extended indefinitely. It's great, but in three months' time when a fare goes back to £8 on some routes, people will not be incentivised to use the bus.
She added: "We need to get bus passengers numbers up or we're facing the same situation, where we might lose rural routes."
Looking at the potential 'cliff-edge' at the end of March, CPT Chief Executive Graham Vidler said: "The cliff edge keeps getting moved back six months, and I don't think it's helping anyone. It's brewing uncertainty for our members, customers and staff. The Government needs to understand another six months is not the right answer – we need certainty for at least two years to plan and invest in routes."
He went on to warn that with councils short of cash, they are increasingly saying they won't support marginal routes, whilst the DfT responded by saying it was considering long-term support for the sector from April in line with its National Bus Strategy.
Roads Minister Richard Holden told The Guardian he wanted to see reliable and affordable buses: "It's really important to try and have schemes to get that ridership back on, because if you don't, all we end up doing is paying hundreds of millions of pounds more in subsidy. What I want to see is that money going towards actually delivering services," he said.