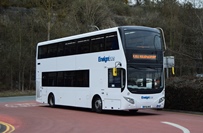 Ensignbus is currently trialling the MCV EvoSeti-bodied Volvo B5TL demonstrator on two of its most important local bus services.
Ross Newman, Operations Director at Ensignbus told CBW: "We've been using it on two of our challenging bus routes – the 73 and the X80. The 73 is our busiest service, operating between 0400 and 0100hrs, with frequent stops between Lakeside, Grays and Tilbury.
"The X80 is also demanding, but in a different way. Buses used on the interurban service between Chafford Hundred Station and Bluewater, via Lakeside have to negotiate the Dartford Crossings and keep apace with the traffic on the M25."
Phil Fletcher, Regional Sales Manager – Bus at Volvo Bus told CBW: "Ensignbus is a well-established operator which has previously taken our Euro 5 double-deck products. This a great opportunity for the company to trial the Euro 6 bus with the brand new bodystyling from MCV."
Operators interested in trialling the demonstrator are asked to call Volvo's Phil Fletcher on 07831 800583 or Dan Barwick on 07831 572467.