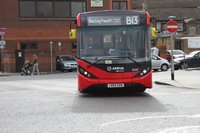 Watford, Dartford, Grays and Heathrow garages all move under Arriva London management
Arriva is set to move all of its Transport for London (TfL) work under one management team, Arriva London, with four garages moving across.
The company's bus operations at Watford, Dartford, Grays and Heathrow are now moving across to be part of an enlarged Arriva London operation.
Arriva London's Managing Director, Bob Scowen, explained that bringing TfL work under the control of Arriva London made good business sense, because of the experience it had acquired in carrying out such work.
"We know about running TfL contracts," said Bob.
"We are specialists in a contract tendering business and it is through that strength that we will further improve upon the routes operating from Dartford, Grays, Heathrow and Watford."
The re-organisation coincides with two major route wins following competitive tendering at Dartford garage in January. These are route 229, with 23 new ADL Enviro400s running from Thamesmead to Queen Mary's Hospital in Sidcup, and Route 469, which links Erith with Queen Elizabeth's Hospital in Woolwich.
As well as winning these two new routes, Dartford also retained three others. These are route 492, which provides a service between Bluewater and Sidcup railway station, B12, operating from Erith to Joydens Wood, and route B13, which links Bexley with New Eltham. Route 492 is operating with new Enviro400 buses, B12 with refurbished Enviro200 buses and new Enviro200 MMC buses have been introduced on the B13.
"We've just finished a major recruitment campaign as we needed around 75 drivers for routes 229 and 469," said Dartford's General Manager, Graham Wykes.
"We have recruited locally and through an agency, which took on drivers from Eastern Europe and they have settled in very well."
Watford has been successful in its bid to retain route 340, which operates from Edgware to Harrow. It has been renewed on a five-year contract until September 2021.
General Manager Mary Lowrey said: "To bid successfully for such an important tender is excellent news.
"We took over route 340 in 1990, when it was a low frequency route. By 2002, the buses were running every 12 minutes, which is testament to the growth and popularity of the service."
As part of the new contract, Garston garage, as it is known locally, will be taking on a fleet of new Wrightbus StreetDecks.
Performance Manager Barrie Godfrey said: "We are looking forward to getting the new StreetDecks. Our drivers have worked extremely hard to help retain the contract and we are all committed to delivering an excellent service."
Peter Batty, Commercial Director, said: "The four new sites operate more than 20 TfL route contracts and represent over 10% of Arriva's London TfL operation.
"We hope that through our shared expertise these sites can be a platform for growth in areas of London where passenger transport demand is forecast to increase".
CBW understands the process in ongoing due to the need to meet O-licencing requirements. Once complete however, staff will be TUPEd across to Arriva London.