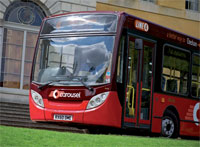 34% of small and medium-sized firms want to acquire business within the UK
More than half of the UK's entrepreneurs see acquisition activity as the main way of growing their businesses in 2012, according to latest research by accountancy and advisers RSM Tenon.
The research, Lonely at the Top: The entrepreneurial challenge, surveyed leading entrepreneurs in the UK about the different challenges and issues they face in today's entrepreneurial Britain.
The research revealed 34% of small and medium-sized businesses (SMEs) want to acquire within the UK, with a further 15% are looking to purchase overseas businesses.
Additionally, when identifying key business priorities for the rest of this year, 42% said they would be expanding into new product or service markets, and 31% said their priority was to move into new geographical markets. The lowest number, 7%, said selling their business would be a priority for 2012.
The desire to expand overseas is being heralded as one of the main ways SMEs can remain positive despite the continued tough conditions in the UK economy.
The publication of Lonely at the Top coincides with RSM Tenon's latest Business Barometer results which show just 40% of UK businesses – the lowest since the regular Business Barometer survey began – are confident about their future.
"It is likely entrepreneurs are currently prioritising their M&A activity due to the many acquisition opportunities which have come about as a result of the downturn in the economy," said Mark Lucas, RSM Tenon's head of audit, tax and advisory services.
"We've definitely seen a rise in businesses, small and large, taking advantage of the situation and looking to acquire competitors while they are still able to do so at a reasonable price.
"Such a strong appetite for acquiring other businesses is good news for the economy. If firms get the basics right and adopt a sound strategy, then there are rewards to be reaped from overseas which will have a direct, positive, knock-on effect for job creation and business growth in the UK."