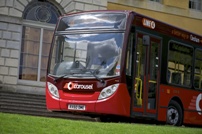 Go-Ahead has announced the acquisition of Carousel Buses with effect from Saturday, March 3 and has said the company will retain its existing brand identity and vehicles.
Based in High Wycombe, Buckingshire, Carousel currently operates 50 buses on a mixture of commercial and contracted services, including schools.
The current owners of Carousel, Steve Burns and John Robinson, will step back from day-to-day operation on acquisition and act as advisers to the new owners. All other staff, including drivers, will continue to work for Carousel, which will be run by the Oxford Bus Company director team under the leadership of MD Philip Kirk.
"Carousel fits perfectly with our strategy of acquiring innovative, well-managed businesses which have a strong commercial core and can provide a solid basis for increasing passenger numbers," said David Brown, Go-Ahead Group CEO. "We're pleased to be taking on a bus firm which prides itself on running a safe, reliable, affordable and customer focused service.
"In 2011 we acquired Thames Travel which was a similar size business and has been highly successful since joining the group, with significant tender wins. It has also successfully converted several services which were subsidised by local authorities into commercial services. Thames Travel has retained its own identity and prospers under our devolved business model. I am confident that we can repeat this success with the purchase of Carousel."