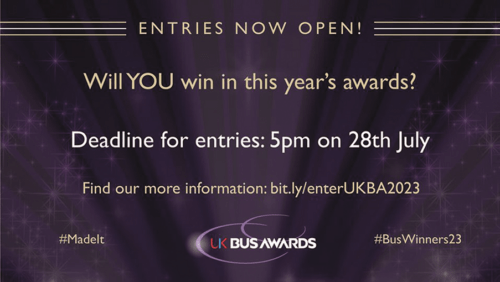 The stage is set for the 2023 UK Bus Awards in London, with entries being invited now
Entries are being invited for the UK Bus Awards 2023, with nominations open until late July. A total of 23 awards will be on offer, covering the diverse range of skills required to plan, promote and deliver high quality bus services.
Following a successful year for the awards scheme in 2022, when it returned to its first 'in-person' presentation ceremony since the Covid-19 pandemic, and following feedback from both entrants and judges, there will be a number of changes to the 2023 edition of the awards to best reflect the current and future direction of the bus industry. For 2023 a number of categories have been renamed, and the entry criteria for several categories revised.
"We work hard to ensure that the awards remain relevant, and adapt to rapidly changing circumstances. For that reason, we have introduced some changes for 2023," explained UK Bus Awards Chairman Alan Millar. "These revised categories will see us introduce new or revised awards for Buses for Leisure, Enriching the Customer Experience, Environmental Innovation, Going for Growth, a Lifetime Contribution to the Bus Industry award, Manager of the Year, Marketing Campaign of the Year and Top Express Service.
"We have also revised our previous Partnering for Delivery award to reflect the greater emphasis on operators working collaboratively with stakeholders in the post-National Bus Strategy environment. This award now becomes the Partnership for Delivery award and remains dedicated to the memory of Peter Huntley."
Alan emphasised that entries from local authorities and other stakeholders will be once again welcomed and encouraged. He continued: "Categories such as Bus & the Community, Buses for Leisure, Going for Growth and Marketing Campaign of the Year are ideal for authorities and partnerships to enter, so we very much hope to see entries in those contests. We know that there are lots of things happening out there, so we want to hear about them!"
He added that recognition of the people who play a role in the delivery of bus services remains at the heart of the awards scheme: "The people categories remain a vital part of our work," he said, "and we very much hope that operators, local authorities and other bodies will nominate their top performing staff in 2023 – recognising and rewarding a job well done is so important – boosting morale, improving employee relations and delivering better customer service, even more so in the current environment."
The closing date for entries of Friday 28 July at 1700hrs. Judging and mystery travelling will take place in August and September. Candidates in three of the 'people' categories will be invited for a discussion with the judges and to give a ten-minute presentation either in-person or via Zoom in late September. Finalists will be announced online in October and the winners at the in-person presentation ceremony on Tuesday 28 November at Troxy in London.
"We can't wait to bring the industry together once again at Troxy in November to celebrate its successes, achievements, innovations, dedication and sheer brilliance," added Alan.