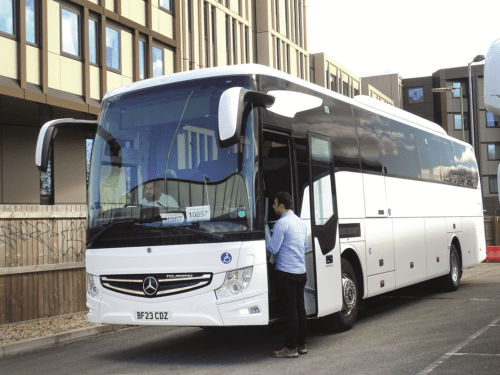 The UK's new coach and bus market fell by 0.6% in the first quarter of 2023, with 968 vehicles joining Britain's transport network, according to the latest figures published by the Society of Motor Manufacturers and Traders (SMMT). With passenger numbers still low since the sharp decline in ridership caused by the pandemic, the overall market remains tough albeit stable since the first quarter of last year, the trade body said. Registrations remain 39.7% below the pre-pandemic five-year average.
The slight decline was driven by minibus registrations, which fell by 39.9% to 389 units, representing 40.2% of the market compared with 66.4% during the same period in 2022, amid supply shortages and naturally volatile fleet renewal. In contrast, demand for single- and double-deck buses and coaches reached the highest Q1 total since 2019, with the number of new single-deckers rising by 89.1% compared to last year to 399, and the number of double-deckers by 55.2% to 180.
Britain's latest bus ridership statistics show that the number of local passenger journeys in England grew by 79.6% to 2.8 billion during the 12 months ending in March 2022, though the total remains significantly below the same period up to 2020 at 4.1 billion journeys.
Alongside this, minibus operators await the outcome of the consultation on Category B licence derogations which would allow existing minibus drivers to operate alternatively fuelled vehicles weighing up to 4.25 tonnes on their current licence.
Mike Hawes, SMMT Chief Executive, said: "While building back Britain's bus and coach sector remains a challenge, with supply disruptions still affecting minibus deliveries, the market is showing signs of recovery – particularly with the boost in single- and double-decker vehicle uptake. The sector has a vital role in decarbonising road transport, and potential minibus licence allowances have the potential to enable more operators to renew their fleets with the latest zero emission vehicles – driving long-term market growth and improving access to green mobility for all."