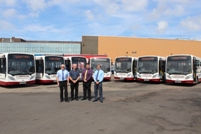 Worthing-based Compass Travel has announced the purchase of another seven new buses following recent contract awards by both East Sussex and West Sussex County Councils.
The new buses are ADL Enviro200s, supplied by Southdown PSV at Copthorne. Finance for the buses has been arranged by Lombard. The East Sussex contracts follow on from short-term arrangements after the demise of Countryliner Sussex, with a further two routes added which are currently operated by Renown Coaches.
The services recently awarded are:
121 Lewes – Chailey – Newick
124 Alfriston – Ringmer College
125 Barcombe – Lewes – Alfriston
126 Seaford – Alfriston – Eastbourne
127, 128, 129, Lewes Local Routes
166 Lewes – Plumpton – Haywards Heath
824 (Village Rider) Lewes – Ditchling – Burgess Hill
The new contracts commenced on Wednesday (July 29). East Sussex County Council has made some changes to the routes and timings but service levels are generally maintained, with some routes gaining later journeys.
In West Sussex, route 99 Petworth – Duncton – Chichester has been re-awarded to Compass and one of the new buses will be allocated to this route. The service remains demand-responsive, with certain destinations needing to be pre-booked.
Chris Chatfield, MD of Compass, said: "The new buses represent further investment by ourselves in local bus transport in the counties of East and West Sussex. These new, longer-term contracts have enabled us to replace some older vehicles with new buses, to provide the quality and reliability which our passengers deserve."
Southdown MD, Steve Swain, said: "We sincerely appreciate the loyalty shown by the Compass Directors for once again placing their valued business with Southdown PSV. In these challenging economic times it is gratifying to see an independent bus company investing in new vehicles for the benefit of their passengers, staff and the bus industry as a whole."