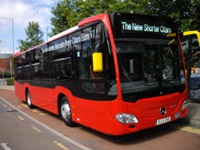 Quality Line, the bus division of Epsom Coaches, is operating the first Mercedes-Benz Citaro K in the UK.
A TfL specification demonstrator on loan from EvoBus UK, the Euro 6 10.6m two-door bus, will augment routes X26 and 465 as well as other services for several weeks before moving on to other TfL contractors.
As well as standard TfL features such as driver air-conditioning and iBus, the specification includes 28 City Star Eco seats, a standing capacity of 56 and an oversize wheelchair space. Clearly visible white on black high resolution LED destination displays are being used instead of roller blinds.
Epsom Managing Director Steve Whiteway said: "I have long admired the Citaro. We operate a number of them already and this new shorter version will give us more flexibility to take on more of the marquee in future. Its high quality matches our aspirations and we look forward to the new model's future success. In particular, the early introduction of Euro 6 emission standards demonstrates Mercedes-Benz and Quality Line's commitment to protect our environment."
Andrew Allsop, Director of Mercedes-Benz Sales at Daimler Buses, EvoBus UK, explained to CBW that the single-door righthand- drive prototype exhibited at Euro Bus Expo 2012 had been well received, particularly amongst operators with arduous urban duty cycles. That vehicle used for development purposes has returned to Germany. A singledoor demonstrator for the UK is scheduled for 2014.
Andrew believes EvoBus is ahead of the competition because it can offer two completely redesigned, more fuel efficient models, the 10.6m Citaro K and 12m Citaro, at Euro 6 that deliver lower whole life costs. An independently audited test run compared with Euro 5 showed an 8.5% improvement in fuel economy. Contributing to lower life cycle costs is lower weight, an energy recuperation module using supercaps and a power management system, numerous air system enhancements, reduction in AdBlue consumption and extended maintenance intervals.