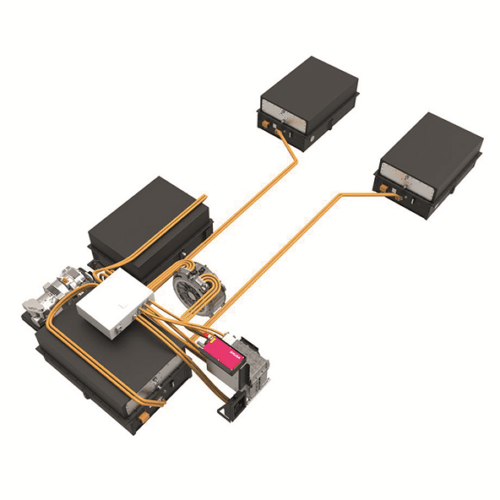 Newport Transport is continuing its rapid uptake of electric buses by repowering a number of buses from its fleet for school and city services
Norfolk-based engineering specialist Equipmake has been awarded a £1.475m contract with a new customer, Newport Transport, to repower eight double-deck buses, utilising its integrated zero-emission drivetrain system. The buses will be used on school and city services throughout the Newport area in South Wales. The first of the converted vehicles is expected to enter service in early 2024, with all anticipated to be delivered, and in service in the current financial year.
Five diesel Alexander Dennis Enviro400s and three hybrid Volvo B5LHs will form the basis of the conversions. The B5LHs will have a 218kWh battery system installed, providing a daily range of around 90 miles, suitable for school routes, and the Enviro400s will be repowered with a 382kWh battery system, providing a range in the region of 150 miles, which the operator says will be suitable for a combination of school and city routes. Each bus conversion is expected to save approximately 90 tonnes of embedded CO2 in comparison to a newly manufactured electric double deck bus, a total of approximately 720 tonnes overall.
Equipmake CEO Ian Foley said: "We're delighted to partner with Newport Transport, another forward-thinking operator who sees the huge benefits to its business model and the environment of repowering its fleet. It's rewarding to see that our sustainable and readily available solution will be used to reduce emissions on school and city routes throughout the Newport area. Repowering existing buses offers operators an excellent opportunity to help them rapidly achieve their zero-emission targets, while making significant cost savings over buying brand new electric buses."
Managing Director of Newport Transport Scott Pearson added: "This partnership with Equipmake is an obvious next step for us as we continuously reduce the emissions of our operations. Its state-of-art technology is cost-effective and environmentally sustainable. We are hugely excited to begin the conversion of these eight buses and see them on the roads of the local area. Our school routes are a vital element of our service, transporting hundreds of students each day. These buses will continue to serve an important community purpose, but with the added benefit of doing so emission-free."