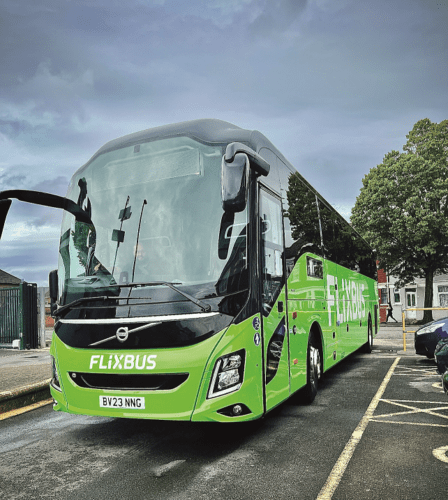 Newport Transport has taken delivery of the first brand new coaches to launch its new express coach venture in partnership with FlixBus on 7 August. The new Volvo coaches mark the start of the Welsh municipal's partnership with FlixBus, for whom it will operate services from South Wales to London's Heathrow and Gatwick airports.
For Newport Transport, the addition of the Volvo 9700s and the operation of an intercity express service route represent a new strand to the business for the long-established operator which is no stranger to moving with the times and trying new ideas. Founded in 1901, it has known horse-drawn trams, electric tramways and eventually motor buses in 1924, and in 2019 became the first operator in Wales to procure and operate a fully electric bus on its network.
The new coaches will be used on daily routes from Swansea, Cardiff and Newport as well as Bristol, to Heathrow and Gatwick Airport and central London. Engineering Director Lee Ahern explained: "The new Volvo 9700 coaches are powered by Euro VI engines, the highest standard to ensure minimal carbon emissions. They are also PSVAR-compliant, ensuring services are accessible to all passengers. Each vehicle will have 53 seats and are all equipped with individual USB chargers, a toilet and temperature control."
Operations Director Morgan Stevens added: "The arrival of the new FlixBus coaches marks a moment in the company's history as a municipal bus operator. This is an exciting new venture, which will bring more growth opportunities for the business and therefore, more opportunities for our staff too. We are currently putting a new team of experienced coach drivers in place so that we can deliver a high-quality and professional Flixbus service. The team will work separately from our current private hire coach team providing consistency of service across the business."
"We're excited to welcome Newport Transport's drivers onto the FlixBus network," said Hayley Russell, Team Lead of Operations at FlixBus UK. "As a company, we are close to the drivers working for our operator partners – we know they are the face of our business and we want them to feel a part of the FlixBus family. My operations team spends a lot of time in coach stations getting to know our driving team and thanking them for their part in our growth."
Newport Transport says it is recruiting new drivers for the service, and points out that drivers operating its FlixBus services will be able to enjoy the benefit of being able to travel anywhere on the FlixBus network worldwide, across Europe, the US, Canada and Brazil, for free.