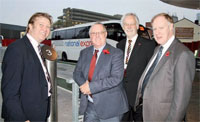 Brian Simpson MEP, chairman of the EU's Transport Committee, visited Birmingham's Digbeth Coach Station last week to discuss the role of the coach across Britain and Europe.
Hosted by National Express' (NX) managing director Andrew Cleaves and Eurolines president John Gilbert, the North West MEP was given a tour of the £15m flagship site and the wheelchair accessible coaches currently being introduced.
The company, which operates a number of transport companies across Europe including Eurolines UK and Alsa in Spain, has invested in 150 new coaches for Britain during 2011.
Brian Simpson said: "I was keen to take up the invitation of National Express and Eurolines to visit the Birmingham Coach Station to discuss the important role coach travel plays in both our national and European transportation network.
"I came away very impressed with the operation I saw."
The MEP was also given a demonstration of the company's vehicle tracking, which allows National Express to pinpoint the exact location of every coach as well as monitoring their speed and internal temperature in real time.
John Gilbert, managing director Eurolines UK, said: "We're delighted Mr Simpson could join us for a tour of Birmingham Coach Station and discussion around the future of the coach industry in Britain and Europe. We believe the coach has an increasingly vital role to play in providing affordable, environmentally friendly transport and we wanted to highlight the opportunities and issues around growing coach patronage across Europe."