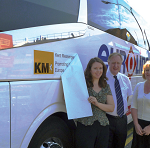 Route to use Excalibur Coaches' new Irizar i6-bodied Scanias
The Kent Messenger newspaper joined Eurolines managing director John Gilbert to unveil a new coach service linking Kent with Dunkerque, Ghent and Brussels.
To mark the occasion, Eurolines arranged for the coach to feature special 'Kent Messenger' branding to help promote the region across Europe.
The new service operates daily from Gillingham and means over 100 European destinations are now available from Kent by coach – including Paris, Amsterdam and Bruges. The Eurolines service picks up from various locations across Kent including Canterbury Bus Station, Dover Eastern Docks and Hempstead Valley Shopping Centre, Stop 24 before crossing the channel via ferry or Eurotunnel. Return fares to Brussels, Ghent, Lille or Dunkerque start from £39.
The new service is being operated by South London-based Excalibur Coaches using its recently acquired brand-new Irizar i6-bodied Scania K360 EB 4X2 coaches – as featured in CBW's 'Deliveries' section in CBW997.
"We've designed this route to boost tourism in Kent through affordable, convenient links to some of Europe's best towns and cities," said Mr Gilbert. "Coach is the most affordable and carbon friendly method of travelling to Europe and we're delighted to launch the new daily link with the support of the Kent Messenger.
"From Kent you can now reach over 100 European destinations with Eurolines and we'll continue to strengthen our network over the coming months."
Around four thousand people arrive into Kent with Eurolines every year and it's hoped the new link will generate even more tourism over the summer.
Sandra Matthews-Marsh, chief executive of Visit Kent, said: "This is excellent news for Kent and our European visitors. We work very closely with tourism colleagues in France and Belgium to promote our county and also encourage people to enjoy two-centre breaks on both sides of The Channel.
"Eurolines is providing highly accessible transport routes for more people to visit and explore the many cultural differences and similarities to be enjoyed from local foods and art exhibitions to our heritage trails and golf courses."