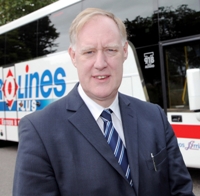 National Express-owned organisation calls for the study and development of coach facilities on the continent
Senior figures in the European Union met last week to acknowledge more could be done to improve infrastructure for coaches in European cities.
At a roundtable event in Brussels chaired by the President of Eurolines, John Gilbert, passenger organisations joined industry representatives in calling for the development of an integrated and comprehensive approach to support coach transport.
Brian Simpson MEP, Chairman of the Transport and Tourism Committee of the European Parliament was the special guest speaker at the roundtable. He said: "The European Parliament is very much in favour of intermodality and integrated Public Transport but regions and cities have also a key role to play in supporting the development of stations that allow passengers to seamlessly transfer between coach and other public transport modes."
John Gilbert said more can be done by transport authorities to improve the coach passenger experience. "Coach is the most flexible, green and affordable transport mode available for European citizens, yet the lack of infrastructure such as interconnected and well located stations holds back its development. This is a wake up call for Europe as coach travel can help reduce personal car use and combined with better access to stations it will encourage intermodal travel".
The participants at the Roundtable agreed that the issue warranted further action.
Eurolines called on the European Commission's DG MOVE represented at the roundtable to launch a study of facilities and terminals for coach passengers – particularly for disabled passengers and also set up a web page with a list of coach stations in Europe, their facilities and their connections. It was also agreed that bus operators should undertake a study on how elderly people use coach services in Europe. These measures will help identify where improvements can be made, particularly for the most vulnerable passengers.