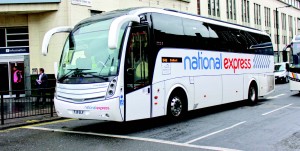 Highest revenue growth in core non-rail businesses National Express Group has released its full year results for the year ended December 31, 2013.
Profit before tax was ahead of target at £143.7m, but still a decline on the 2012 figure of £164.1m, reflecting the handover of the National Express East Anglia franchise during 2012. This figure includes a fourth consecutive year of record profit in the group's core non-rail businesses.
Group revenue grew 3% to £1.89bn (2012: £1.83bn) with 7% growth in total non-rail revenue, and the group generated £182.8m of free cash flow, over £30m ahead of target and over £40m ahead of the previous year (£140.8m).
Normalised operating profit from core non-rail businesses reached a record £185.5m (2012: £185.2m).
Net debt was reduced by over £80m to £746.1m (2012: £828.2m).
National Express' full year proposed dividend was 10.0 pence, up 3% year-on-year.
UK Coach express passenger revenue was up 7%, with operating margin over 9%.
Across the Atlantic, North America revenue was over $1bn, up 10%, with almost $200m of operating cash generation.
The group said it had secured £1.8bn of revenue from new markets.
Dean Finch, National Express Group Chief Executive, commented: "National Express has made important progress in 2013. These results show how we have been able to address the headwinds facing the Group at the start of last year. We beat our targets, especially on free cash flow, and have raised the dividend to reflect our confidence.
"I am particularly pleased with the strong growth in UK Coach, following its difficult year in 2012, and our performance in North America.
"We also made important strides in business development during 2013. For example, we also entered new markets, most significantly Germany. We have won important new contracts and are shortlisted for a number of rail franchises in the UK and Germany."