Metroline expects delivery next summer of the first BYD ADL Enviro400EVs and first Optare Metrodecker EVs – 68 vehicles in total – for two TfL contracts
Metroline is to receive the largest fleet of double-decker electric buses in Europe which will operate on two Transport for London (TfL) contracts.
London Mayor Sadiq Khan announced the news at a national air quality summit, declaring that 68 new electric double-deckers will join the bus fleet in London.
The vehicles will operate on two routes run by Metroline from Barnet to central London, both of which will be exclusively operated by electric double-deckers.
Metroline CEO, Jaspal Singh, said: "Operating zero-emission all electric buses confirms Metroline's continued commitment to London, our customers and TfL."
Ian Foster, Engineering Director at Metroline, added: "Metroline is a dynamic and ambitious operator with 99 routes across London and we are pleased to lead in the implementation of London's first all-electric double-decker routes, having been involved closely with this project from the outset."
The order is a first for two British manufacturers – Optare and Alexander Dennis Limited (ADL). It includes 31 Optare Metrodecker EVs, the first order for the electric version of the Metrodecker which itself saw an initial order from Reading Buses the previous week, along with 37 BYD ADL Enviro400EVs, a brand new vehicle from the ADL BYD partnership designed at ADL's Larbert facility and BYD's research and development centre in Shenzhen, China.
Both fleets are expected to be delivered in summer 2019, with ADL stating that it is targeting a second quarter delivery.
Optare's 31 Metrodecker EVs will cover TFL Route 134, which runs from North Finchley bus station to Tottenham Court Road.
The bus has a plated Gross Vehicle Weight (GVW) of 18,000kg and can carry over 90 passengers, with an expected range of over 150 miles on a single charge. The vehicles will be based at Metroline's Potters Bar depot.
Robert Drewery, Commercial Director at Optare, said: "Optare has the largest parc of electric buses in the UK, with a decade of experience working with operators across the country.
"We are delighted at the news of this order, which follows extensive in-service trials of the Metrodecker EV with a number of operators in London and other cities around the country over the last 12 months.
"The next generation Metrodecker EV destined for London is currently in testing before entering service trials later this year."
Graham Belgum, Optare President, said: "This order for our double-decker product launched in November 2016 at Euro Bus Expo begins the next chapter in the Optare electric bus journey.
"The first TfL route to operate with solely electric buses began operation with an all Optare single-decker electric bus fleet four years ago. We look forward to bringing the next generation of electric buses to market later this year."
The BYD ADL 10.9m Enviro400EVs will feature ADL's City-style bodywork with a glazed staircase. They will use BYD's iron-phosphate battery technology. The buses will be based at Metroline's Holloway Garage in north London and run on route 43 from London Bridge to Friern Barnet.
The chargers at Holloway will also service Metroline's fleet of 23 10.8m single deck BYD ADL Enviro200EV buses when they enter service in the middle of this year.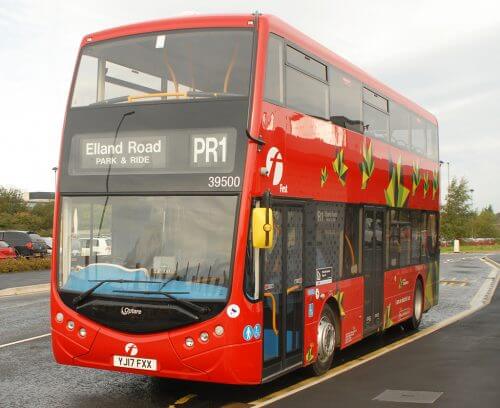 The BYD ADL deckers follow a fleet of five solely BYD-built deckers which went to Metroline in 2015 – the first in the world. The pilot vehicles have been used on TfL route 98, which spans the length of Oxford Street.
Colin Robertson, ADL CEO, said: "So far the Enviro200EV single-deckers have delivered in excess of 1.5 million miles of zero emission transport in the UK. This new contract for double-deckers takes the BYD ADL collaboration to a whole new level in every sense.
"We look forward to continuing our journey of improving air quality, while responding to the operational demands of our customers and the requirements of their passengers with this brand new vehicle."
Isbrand Ho, Managing Director of BYD Europe, added: "Our joint team has made tremendous progress in winning tenders for TfL routes across the capital with our 10.8 and 12m single-deckers.
"With 6,800 double-deckers on London streets, their full electrification is the key to making maximum beneficial impact on air quality for Londoners.
"We are delighted, in the face of intensifying competition, to win the largest first order for electric double-decker buses in London and to retain our position at the top of the electric bus sales league."
At the air quality summit, city leaders covering Bradford, Bristol, Cardiff, Greater Manchester, Leeds, Leicester, Liverpool, London, Newcastle, Oxford, Sheffield, Southampton and the West Midlands underlined their commitment to reduce emissions and tackle pollution as they set out a list of joint priorities for the government and vow to work together as a new air quality network of cities.
The summit called on the government to introduce a modern Clean Air Act with tighter pollution limits and new powers, a targeted national vehicle renewal scheme, an enhanced Clean Air Fund to support local action, and support for UK businesses to promote the manufacturing of low-emission vehicles in the UK.
Many cities, including London, also called for the Government to adopt 2030 as the date by when sales of new pure diesel and petrol cars and vans would be phased out – 10 years ahead of the current Government commitment of 2040.
The Mayor of London, Sadiq Khan, said: "In London we're helping to lead the way with my Ultra Low Emission Zone, and I'm delighted to announce a Europe-leading new fleet of electric double-decker buses too.
"We're doing all we can to improve our air quality and we need the government to match our ambition to solve this national health crisis."
Next year, TfL aims to have 240 electric buses running on the network and for all new double-deck buses to be zero-emissions or hybrid, with every single-decker bus in central London to be zero-emission by the following year. Ultimately, by 2037 all buses in London are expected to be zero-emission.
Claire Mann, TfL's Director of Bus Operations, said: "We're committed to reducing emissions from London's buses and making routes 43 and 134 exclusively electric is an important step to a zero-emission fleet.
"Buses are crucial to reduce Londoners' reliance on cars, and with this landmark order it means the largest pure electric double-decker bus fleet in Europe will help reduce emissions across the capital.
"Electric buses are good for air quality and improve the customer experience, with less noise and fewer vibrations, all creating a more comfortable journey."