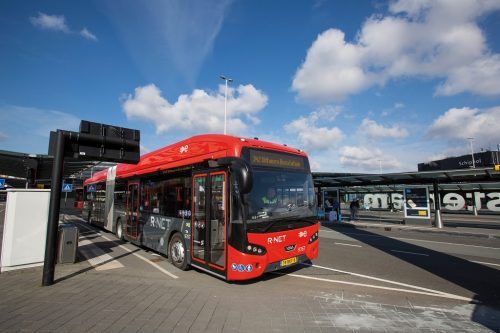 With 100 VDL Citea SLFAs now in service, in and around Schiphol Airport now has largest electric bus fleet in Europe
HOLLAND Connexxion, Transport Region Amsterdam and Schiphol have introduced Europe's largest electric bus fleet. On April 1, 100 electric articulated VDL Citea SLFAs fully entered service in and around Schiphol Airport and on high-quality public transport lines within the Amstelland-Meerlanden concession after being phased into scheduled service over the previous weeks.
Bart Schmeink, CEO Transdev Netherlands, said: "I am extremely proud of this huge accomplishment. Achieving this would not have been possible without the excellent collaboration with the Amsterdam Transport Region, the municipality of Amsterdam, Schiphol and VDL. With a concession and fleet like this, the municipality of Amsterdam is ready for the future."
These 100 electric articulated VDL Citeas operate 24 hours a day, covering 30,000km on six routes. VDL says operational availability has been maximized through utilising optimised rapid charging. The batteries have an energy capacity of 169kWh and can be charged with up to 420kW power. This means that a fully discharged battery is recharged and ready for the next trip in 20 minutes or less. Charging downtime is therefore kept to a minimum.
In addition to 23 Heliox rapid chargers (450kW), located at four strategic charging points in the operation, there are 84 Heliox depot chargers (30kW). Each night the buses are slowly charged and pre-heated so they start operation the next morning with a full battery and comfortably warm interior. Charging is done via a pantograph on the roof of the buses. Two Heliox mobile chargers (25 kW) are also used.
Ard Romers, Director VDL Bus & Coach Nederland, said: "This past year we have taken big steps to further strengthen our position as E-Mobility transition partner. We learn daily from the various zero emission bus transport projects as well as the implementations and modelling of the various systems. Thanks to this experience we have now also succeeded in contributing to the successful transition within the Amstelland-Meerlanden concession. A major step has been taken to further the sustainability of public transport in this region."
Two different versions of the VDL Citea SLFA Electric have been delivered to Connexxion. The R-Net buses have a three-door configuration in the standard Citea exterior and seat up to 50. These buses will be put in service on four high-frequency R-Net routes between Uithoorn, Amstelveen, Schiphol and Amsterdam city centre.
The buses for Schipholnet will operate on 12 routes in and around Schiphol. These buses have been built in the futuristic BRT design. The fourth door in this version further optimises the passenger flow on these buses.
VDL played an important role in the project management involved in the implementation of the electric bus fleet. To provide a virtually turnkey solution, Connexxion, VDL and Heliox cooperated closely from the time the contract was awarded. From the very beginning they looked beyond just the practical implementation and considered where the best opportunities for infrastructure development could be found. VDL Bus & Coach also bears overall responsibility for the fleet systems. In this type of complex project, close cooperation between various parties is a prerequisite for successful implementation.
Connexxion and VDL had already worked together successfully during the introduction of the 43 electric articulated Citeas in Eindhoven. Since December 11, 2016 every bus has travelled 350km per day and altogether the 43 buses have driven nearly 4m km so the operational advantages of high-performance battery technology in combination with quick charging solutions have already been demonstrated.
The Amstelland-Meerlands concession runs until December 11, 2027. The 100 electric buses currently deployed represent the first phase of a transition to a total of 258 zero emission buses in 2021.