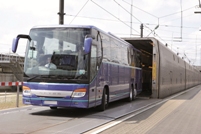 For the first nine months of 2011, revenues increased by 16%
Groupe Eurotunnel has seen a 10% increase in traffic and revenue to €231.7m in the third quarter of 2011.
At €192.2 million, Eurotunnel's revenues excluding Europorte (the European rail freight subsidiary of Eurotunnel) for the third quarter of 2011 showed a solid 7% increase.
For the first nine months of 2011, revenues increased by 16%, at a constant exchange rate, to €627.8m, compared to 2010.
Revenues from the Channel Tunnel shuttles have also increased by 8% to €116.5m.
On the Channel Tunnel fixed link, revenue increased by 9% at a constant exchange rate compared to 2010, to €516m.
Truck Shuttle traffic grew by 17%. Passenger Shuttle activity continued on track with a further 5% increase in traffic.
The Channel Tunnel maintained its high level of market share with no difficulty, confirming its place as leader in the cross-channel market, both for Truck Shuttles and the Le Shuttle passenger service.
Eurostar however, experienced a slight drop in numbers at the end of the quarter.
On Le Shuttle passenger shuttles, compared to the third quarter of 2010, car traffic has increased by 4%. In a summer market which remained essentially stable, Eurotunnel was able to provide interesting options to customers seeking an environmentally friendly transport solution. The Group has been able to adapt to the growth in demand using the flexibility of its Shuttle services.
Other areas of revenue growth highlights include:
Revenues from the core activity, transporting trucks and leisure vehicles by Shuttle, increased by 8% to €116.5m compared to the same period the previous year.
Revenue from Europorte grew to €39.5m, an increase of 30%. Revenue from Shuttles grew 9% to €298.3m;
Revenue from the use of the railway network grew by 9% to €210.3m; and other revenue increased by 4% to €7.4m.
Commenting on the figures, Jacques Gounon, chairman and chief executive of Groupe Eurotunnel, said: "This summer, Eurotunnel demonstrated its capacity to be market leader across the channel and successfully introduced effective solutions for rail freight. The Group is nonetheless conscious of the signs of economic slow-down and will continue to optimise the flexibility of its services."
Groupe Eurotunnel reduced its debt: the group spent €99m to buy back some of the variable interest bonds issued by Channel Link Enterprises Finance (CLEF,) the securitisation structure for the debt, in the markets, at an average discount of 11%. This has led directly to a reduction in debt servicing costs.
For more information about Groupe Eurotunnel, click here.