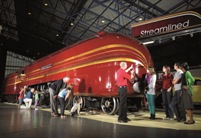 The National Railway Museum (NRM) in York displays a collection of over 100 locomotives and nearly 200 other items of rolling stock. A plethora of items and records of social, technical, artistic and historical interest are also on site.
The Duchess of Hamilton has been restored to her original streamlined Art Deco form and now takes pride of place in a new exhibition which explores the links between 1930s fashion, engineering and design.
The NRM hosts family-friendly activities which can be enjoyed by children of any age at weekends and school holidays. 'Clickety Clack' explores the sounds of a train as it travels from London to Scotland, for example.
Entry to the NRM is free. Pre-booking a group visit is recommended as it entitles groups to many special offers and discounts. Visit the NRM website for more information on current special offers, and order these when making a booking to receive offer vouchers when arriving at the museum.
Contact the group administrator on 01904 686263. Visit www.nrm.org.uk