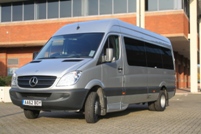 Move follows sales growth of 35% on previous year
EVM Ltd has appointed UK Minicoaches of Willenhall, as its authorised sales agent for the EVM range of Mercedes-Benz Sprinterbased minicoaches.
In 2012 – 2013, EVM's sales have grown by a phenomenal 35% over the previous period, which Sales Manager Danny McGee has declared as the natural result of a continued focus on the build quality of the EVM product.
"Every member of staff has a personal responsibility for their contribution to the final build quality leaving the factory," said Danny. "This is the only way we can consistently deliver the quality of vehicles we do."
Peter Flynn, Sales and Marketing Manager for EVM, said EVM has been monitoring the marketplace for a suitable candidate for some time. "We have worked with the guys in UK Minicoaches for some time now and have developed a close working relationship with Adrian Pedley and Gerald Whitehouse," he explained. "With over 15 years experience in the bus and coach sector, UK Minicoaches is well placed to make 2014 a year of continued growth for the EVM brand."
One of the challenges in new minibus sales is what to do with the trade-in. UK Minicoaches is uniquely positioned to assist customers in this area and therefore assuring the already streamlined sales approach EVM uses for its new vehicle purchases now extends to the trade-in also. "EVM's approach to sales is very simple, the customers get to spec the vehicle they want, have it delivered when they want with a build quality which is unequalled in the industry," concluded Peter Flynn.
All EVM Minicoaches arrive with European Whole vehicle Type Approval and full threeyear unlimited mileage chassis warranty from Mercedes-Benz. A whole raft of finance and extended warranty options are also available.
Located in the West Midlands, UK Minicoaches is within easy access from all points of England, Scotland and Wales and with two international airports & a mainline railway station nearby.
For more information, see www.ukminicoaches. co.uk or contact Adrian Pedley direct on 01902 631507.