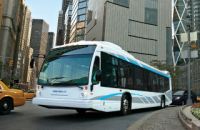 Order worth $34m will replace existing fleet and permit expansion
CANADA Nova Bus has confirmed $34 million order from the city of Brampton, located just west of Toronto in Ontario, for 70 Nova LFS buses, with options on additional vehicles. Deliveries are scheduled to begin next year.
Brampton Transit plans to use the new Nova LFS to replace older buses and grow its fleet. Moving more than 18 million passengers in 2012, the transit authority connects passengers to major attractions and destinations in Brampton, as well as public transit systems in the Greater Toronto Area.
"Renewing our partnership with Brampton Transit is a welcome opportunity to strengthen our presence in Ontario," said Jean-Pierre Baracat, President of Nova Bus.
"We're committed to working closely with Brampton moving forward," he added.
"Brampton is a growing community. We understand how uptime can make a difference in tackling the challenges of rapid population growth and congestion. The Nova LFS has a proven track record all across North America. It is also backed by a dedicated support team and a strong parts network."
Nova Bus vehicles for Brampton will be entirely assembled in Canada and feature a high level of Canadian content. Nova Bus and the Volvo Group count on a network of more than 65 component suppliers in Ontario, with millions in spending each year in the Greater Toronto Area.
Brampton's new Nova LFS buses will get an updated look compared to the previous 106 LFS the transit authority received from Nova Bus between 2002 and 2009. The asymmetrical ceiling through the entire length of the new vehicle increases headroom on the street side. The driver's partition is slimmer, making the area roomier for both driver and passengers.
Nova Bus also reconfigured the Nova LFS for easier maintenance and routine cleaning. Changes include a completely rethought rear section of the vehicle, which improves access to main components, as well as a seamless floor, cantilevered seat mountings and wall extrusions with fewer dust traps.
The Nova LFS buses come equipped with the latest Nova eCooling system. This proprietary, built-in electric engine cooling technology marks a step towards greener efficiency. It significantly reduces fuel consumption, greenhouse gas emissions and life cycle costs.
The new vehicles also feature an advanced hePEX tubing system designed to replace the traditional copper tubes found in heating systems. HePEX tubes and connectors have been widely used in Volvo buses and trucks for years. They reduce vehicle weight and simplify maintenance since there is no welding or bonding involved.