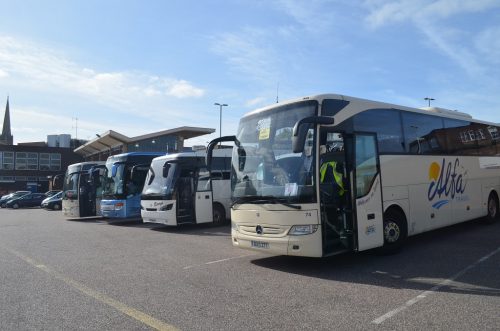 The city tells CBW about its plans to cater for the visiting coach trade in the future
The long awaited closure of Exeter bus station has been announced – yet again – for Sunday, June 17.
If the closure goes ahead this time, visiting coach parties will no longer be able to use the bus station for dropping off and parking up when they visit the city.
Part of the bus station site will still be used by local bus operators, but visiting coach parties will have to drop off and park elsewhere.
If visiting coach drivers either forget about or weren't aware of the changes, when they arrive at the bus station site they will find signage directing them to the new facilities.
There will be no provision at the old site for dropping off or parking. The drop off point will henceforward be on South Street on the other side of the city.
This is very convenient for the main shopping area on the High Street, Cathedral Green and the city's Cathedral which are all only a matter of yards from the drop off point. The waiting time is 15 minutes.
The drop off area is covered by CCTV. Rob Sims, a journalist working in communications at Exeter City Council, told CBW that – in the event of overstaying due to a delayed or a lost passenger – he does not think "that enforcement will be as rigid as to cause problems for an occasional overstay." It might not be wise however for drivers to think that they can do a bit of shopping when they stop in South Street.
Coach parking will be provided at the existing city council coach park at Haven Banks on the south side of the river in Michael Browning Way.
To ensure that Haven Banks can cater to the increased demand after the bus station closes, Rob said: "The coach park will be closed and re-lined with a total provision of 12 coach bays before the closure of the lower apron of the bus station."
The cost of parking at Haven Banks will be £6.00 for any period of 24 hours. The coach park is covered by the council's CCTV.
The city council will also be improving the signage for coach drivers to Haven Banks.
For any drivers stopping at the city's hotels overnight, the Haven Banks coach park will be closed from 2000hrs to 0700hrs. Rob added that: "There are no proposals to change the operating hours of the coach park."
There are numerous cafés, restaurants and public toilets on Exeter Quay which is a short walk from the coach park.