A series of rail strikes during the Christmas and New Year period looked set to spoil Christmas travel plans for passengers, but express coach services providers said they were ready and waiting to get people where they need to be this festive period. CBW asked some of the UK's express coach operators how they are preparing for the increase in passenger numbers from rail users, in addition to the normal Christmas and New Year rush from their own customers.
Managing Director of FlixBus UK Andreas Schorling said: "Consumers have been forced to cope with dramatically increasing prices of food and fuel this year, but no one need miss out on seeing their loved ones, even during the rail strikes. FlixBus is giving the gift of sustainable, reliable, affordable transport, and our coaches will be running over Christmas and bank holidays, giving more people than ever the chance to meet and celebrate the season.
"The popularity of FlixBus has been overwhelming this year and our mission to become the largest coach provider in the UK within the next five years is well underway."
Tony Simmons, Operations Director for megabus for England and Wales said: "We will be operating additional journeys and duplicate services on key corridors. We are working with more than 15 national and local operators in delivering services throughout the Christmas period and during the train strikes. As a result, tens of thousands of additional seats have been added and seats are already selling fast throughout the festive period, but with extremely high levels of bookings on train strike days showing people's resilience to still wanting to travel and not let the strikes affect their plans.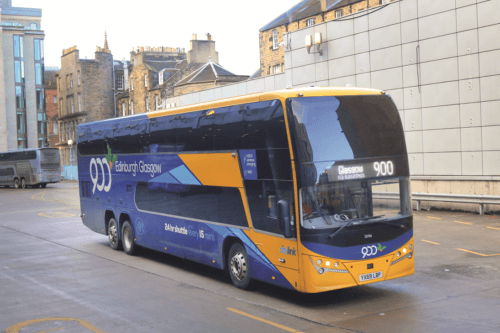 "In addition, more destinations and seats available on Christmas Day than ever before and an additional cross border services to Scotland have been added. This year will also see the return of our special New Year's Eve/New Year's Day day services from London, departing at 0200hrs. It is also encouraging to see festive season customers already booking back to 2019 levels.
John Boughton, Commercial Director at National Express UK Coach, explained: "Christmas is such an important time of year for travel and we're seeing huge demand for our services, particularly on and around the rail strike days. People deserve reliable and affordable public transport to get around and travelling by coach this Christmas is the only way to do that. We've added extra capacity on our busiest routes to help as many people as possible get home to spend Christmas time with family and friends. Between 22 December and 2 January we're expecting over half a million passengers to travel on our services."
Coach services will be running throughout the festive season, including on Christmas Day, Boxing Day and New Year's Day, he added, and with rail strikes disrupting travel plans over the festive period, National Express is adding more than 50,000 seats across its core network.
Rachel Geliamassi, Managing Director for Stagecoach West, operator of the Oxford Tube service, said: "At Oxford Tube, we'll be running every day over Christmas and New Year apart from Christmas Day to help people spend time with loved ones and celebrate the New Year. We are expecting services to be busy during the rail strikes so to reduce waiting times we'd recommend passengers use our first departure points at Gloucester Green or London Victoria where coaches will originate from. We'll be using additional coaches during the rail strikes, along with extra drivers, to make sure customers get to where they need to be."
A spokesperson for Scottish Citylink said: "We will of course try to accommodate any additional demand by adding extra vehicles where possible on our existing services. There is already quite a high frequency on the Saltire Cross network and service 900 between Edinburgh and Glasgow. We will do our best to meet demand but would urge customers to make sure they book in advance via our website."