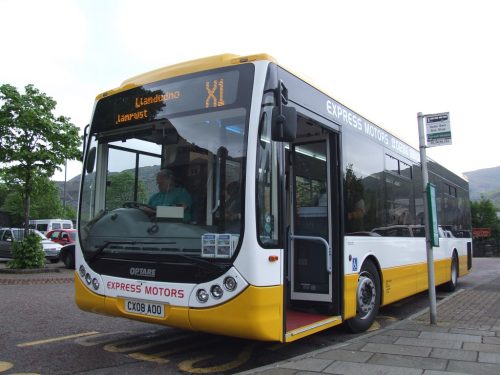 Express Motors Director Eric Wyn Jones and six others have appeared in court after a three-year investigation into the Penygroes-based bus company, the Daily Post reported.
The group includes directors of the company, which operates a network of services in Gwynedd, Anglesey and Conwy.
Eric Wyn Jones faces a charge of conspiring to commit fraud by false representation contrary to the Fraud Act 2006. The charge alleges between June 13, 2012 and September 11, 2014, he conspired together with his co-defendants and with persons unknown to commit fraud by making a false representation. It is alleged he instructed others to increase the number of concessionary passes swiped; excessively swiped concessionary cards and submitted false concessionary payments scheme claim forms to Gwynedd Council intending to make a financial gain.
The 76-year-old also faces an allegation that between June 13, 2012 and September 11, 2014 at Caernarfon, he conspired with his sons Ian, Keith and Kevin to conceal money by failing to account for all cash takings as business income; failing to pay any taxes due on the cash takings and paying the cash takings into personal bank accounts without declaring this as income.
Keith Jones, 50, Kevin Wyn Jones, 54, and Ian Wyn Jones, 53, all face the same charges.
Ian Jones also faces a charge of possessing counterfeit currency at Caernarfon on July 30, 2014.
Aled Wyn Davies, 40, Michael Munson, 51, and Rheinallt Williams, 43, face the same conspiracy charge as the other defendants.
The charges follow an investigation by North Wales Police which was sparked by a complaint from Gwynedd Council. It led to police arresting the men in August 2014. Bus services operated by the company are running as normal, though its licence will be revoked on December 31. This follows an unrelated public inquiry before Traffic Commissioner for Wales, Nick Jones, which found that the operator had falsified maintenance records. Ian Wyn Jones was also disqualified from holding or applying for a transport manager's licence for 12 months.
Express Motors was established in 1908 and remains a family business owned by Eric Jones. It operates more than 50 vehicles and employs about 80 people.