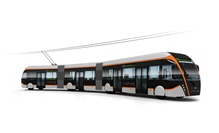 Linz, the third largest city in Austria is investing in a fleet of 24-metre, double-articulated all-electric vehicles from Van Hool
AUSTRIA Van Hool is to build 20 Exqui.City 'tram-buses' for Linz AG Linien, public transport operator in the Austrian city of Linz. The 24-metre, double-articulated trolleybuses will each have a capacity of approximately 180 passengers and initial prototypes are expected in the first half of 2017. All are expected to be in service on routes 41, 43, 45 and 46 towards the end of 2019 where, following an identical timetable and with the same crew numbers, they will increase passenger capacity by 30%.
Electric traction systems will be supplied by Vossloh Kiepe and power will come from two maintenance-free asynchronous motors located centrally and driving axles two and three. A battery for the back-up drive is charged during travel by contact with the overhead line and/or by regenerative braking.
Klaus Luger, Mayor of Linz which has almost 200,000 inhabitants, said: "Making Linz's public transport attractive is a top priority of mine. With the 20 double-articulated trolley tram-buses, we are setting new standards. The city's trolleybuses will be the most advanced in the country. As a result, users of public transport in Linz will enjoy even greater comfort and convenience. On the one hand, more passengers can be carried; and on the other hand, the interior of the vehicles is even more appealing. And what's more, the vehicles' innovative drive technology is good for the environment."
"This major order is good news for two reasons," said Filip Van Hool, CEO of Van Hool nv. "Firstly, it's good news for the employees at our Koningshooikt site, where we must concentrate on producing vehicles with high added value, such as the Exqui.City. Not in the least because in the market for standard urban buses, it is becoming impossible to compete with rival manufacturers who have moved production of these standard buses entirely to low-cost countries such as Turkey and the Czech Republic.
"Secondly, the order confirms that our strategy of focusing upon the development, production and sale of buses for high-quality public transport is bearing fruit. In fact, we're confident that we will have more to report in this area in the course of the coming weeks and months."
"In order to manage and increase customer satisfaction in our public transport system, we must meet high standards of quality and comfort," said Dr Jutta Rinner, Board Director of LINZ AG. "The use of advanced technology and a modern fleet are important elements in providing new impetus to public transport in Linz. We are very pleased that with the new double-articulated trolley tram-buses, we are able once again to demonstrate the pioneering role played by LINZ AG LINES in public transport in Austria."