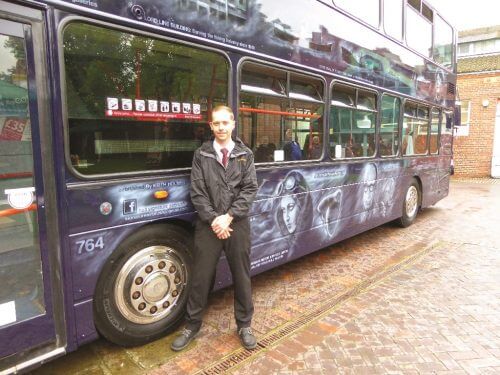 East Yorkshire Motor Services (EYMS) has decorated one of its double-deckers with pictures of famous people from Hull and landmarks in the city.
The airbrushed Wrightbus Eclipse Gemini-bodied Volvo B9TL is believed to be the only bus in the UK which has been adorned in this way. It is the work of EYMS driver Keith Holmes, who approached the company with his idea several weeks ago.
Having seen an example of his work, Chairman Peter Shipp readily agreed to provide a bus for Keith to work on and the result has now been shown in full for the first time, although the partly finished bus was exhibited at the EYMS Big Bus Day in September.
Keith, 31, picked up his airbrush skills simply by watching YouTube videos and by trying it for himself. He joined EYMS over two years ago, and will be moving from his job as a driver into the EYMS paint shop in November.
The bus includes pictures of Amy Johnson, Philip Larkin, and Norman Collier, William Wilberforce and the Wilberforce Monument, the Lord Line building and a Hull trawler.