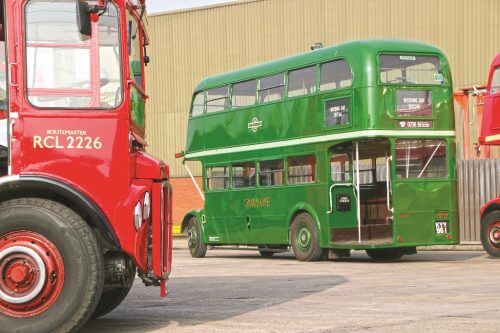 This coming Saturday's (December 3) Ensignbus Running Day promises a host of surprise vehicles dating from the 1930s to the 1980s.
The event provides the perfect opportunity to experience travelling on examples of the Ensignbus Company (EBC)'s extensive and rich collection of heritage vehicles, which will operate on four routes.
EBC Chairman Peter Newman told CBW: "This includes main road X55 Upminster to Gravesend, via Aveley, Lakeside and Bluewater. Traction will include RTs, RTLs, RTWs and Leyland PD2 and 3 – and essentially anything and everything. A journey takes an hour and a quarter from end to end, subject to traffic on the Dartford crossing.
"It can be quite an exhilarating ride, especially over the bridge. Even if traffic means you can't get a move on, the views are excellent. The noise of the engine inside the tunnel can be music to the ears of many of those on board."
Peter said the X81 between Shenfield and Grays, via Lakeside and Brentwood offers "a more leisurely ride" – again on a half-hourly frequency, using double-deckers.
The X21, which will link Upminster with Ongar, via Brentwood will be operated entirely using single-decks due to low bridges. "There will be a real mix, including some interesting guest vehicles," Peter enthused.
He also remained tight-lipped about the vehicles running on the Lakeside Circular – only stating that it will be include "surprise vehicles."
The heritage journeys supplement EBC's normal local services, running as extras, with some trips operating longer routes. All Network Day Tickets are priced: Adults £8, children £4 and family ticket (max two adults) £22. All vehicles are subject to availability.
Peter concluded: "Our event has now probably become the UK's largest running day. We carry up to 3,000 passengers – not all of which are enthusiasts by any means. Visitors travel from across mainland Europe and Ireland to attend. We also get members of the public who've had family members working in the bus industry and want the next generation to experience what their forefathers did. It's a great day out. We hold it on the first Saturday in December as there's not much on then."