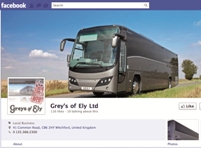 Greys of Ely MD: a good opportunity for operators to showcase what they do
Facebook has launched its 'Timeline' feature for business and brand-focused pages – a step welcomed by Richard Grey, managing director of Greys of Ely coach firm.
Facebook's Timeline was recently launched as a new way for people to curate and design their profiles, featuring a large picture across the screen as well as smaller profile picture. The new pages will be in preview mode for businesses over the next 30 days and the new designs will be rolled out by March 30.
Facebook designer Sam Lessin, who led the Timeline design, said Facebook Pages will now embrace "the whole concept that organisations have identities they want to express. The key with cover photos is storytelling and expression. We want to create a good experience for everyone, and we think these guidelines really help brands… They're encouraging people to create engaging content which people want to come back to and create an emotional connection with."
Product director Gokul Rajaram added: "We've seen most businesses have a core group of loyalists, but those loyalists also have friends. We've made it easier for people to connect with a business through the lens of their friends… It's a much more personalised experience."
Next to highlighted friend activity, a new administrative panel will appear at the top of Pages managed, and will act as an activity snapshot for notifications, post performance and statistics, and messaging.
Administrators will now have the ability to cherry pick "pinned posts," which will appear at the top of the Page's Timeline for up to seven days.
"A pinned post is a way for the Page to indicate the 'post of the week,'" said Rajaram. "Life events", such as an award, a new product launch or a founding can also be added and can pre-date the creation of the page.
However, Facebook isn't allowing pages to include calls to action or overtly promotional text in cover photos. A business' page can include a logo or an image of its location or staff in the cover photo, but can't say, for example "Get 40% off today" or "See more at our website."
Rajaram said: "Brands don't want to be overly promotional; in the long term, they know it's a turn-off to people."
Praising the new timeline feature, Richard Grey of Greys of Ely, for whom Facebook is an important part of the business, told CBW: "There has been a lot of talk about the timeline for some time. You now have a nice bit snapshot across the top, which allows any sort of business or branding. Everything is image-driven nowadays so this is a great opportunity for coach operators to showcase what they do – either with a picture of a vehicle or themselves.
"It's easier to look through, a lot more content-rich and a new 'ask questions' feature means you can now create customer feedback for example asking 'would you like us to create a journey to a West End show'," he continued and said videos can also be added, which is "more tactile".
"You've only got to google the Timeline and there are lots of ideas on how to use the top image and how you link in a profile picture to the overall snapshot. We might ask passengers to take a picture of our vehicle, which we will use for a week at a time. You've also now got Facebook URLs for businesses which displays www.facebook.com/ rather than a long line of text and numbers as before."